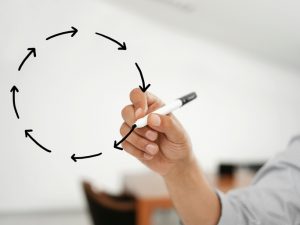 By Nicole Wylie
Moving up the management chain has its perks: more input, more insight, and more opportunities for shaping your organization's growth strategy.
But climbing the corporate ladder also brings more responsibilities, like managing the team responsible for executing said strategy. And in addition to everything that's already on your plate, connecting meaningfully with each of your reports can feel like a challenge.
One thing I've learned from my managers and from maturing as a manager myself is that the key to a good relationship with your team is creating an effective feedback loop—learning from your team while they're learning from you. It means being open to accepting feedback and building an environment where your team comes to you not only for support in their current role but for a safe, productive space for discussing their frustrations and ambitions.
No manager takes this journey alone; we all learn from one another, taking tactics and tailoring them for our teams. As I reflect on the opportunity to speak to this topic at #IPI2018, I'd love to hear your tips so they can be shared (with credit, of course) with the other experts in attendance. Send your thoughts to nicole@spothero.com.
Nicole Wylie is general manager of SpotHero. She will be speaking about communicating effectively as a manager at the 2018 IPI Conference & Expo.