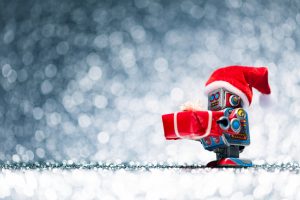 By Mark Lyons, CAPP
With all this talk about autonomous vehicles—you know, when will they arrive and how will it improve our lives—our minds roam. You know what I mean? Will I share a car with someone else or have my own? I know now where I place my coffee in my car, so where will I place it in an autonomous vehicle every morning?
For the holidays, I have different questions for the industry about autonomous machinery. Questions like, couldn't you try to build an autonomous self that could hang the outdoor lighting and ornaments? Or how about, can I get an autonomous me that could do my gift shopping so I can avoid the crowds and watch more football? And, for the snow season, how about an autonomous snow blower?! Here's one we all probably need. After the season festivities I'll need to lose a few pounds. Why can't I have an autonomous self that goes to the gym five days a week so that I could get all the benefit of the workout?
I mean, really, shouldn't the industry be looking at how to make like easier and more fun?
How about you? What autonomous invention would you like this holiday season?
Mark Lyons, CAPP, is manager of parking with the City of Sarasota, Fla.