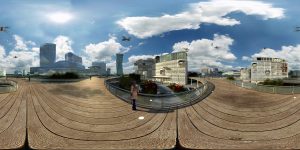 Lots is being said about designing the garage of the future, including a whole lot about adaptive reuse. But how will that work, exactly? How can today's design be constructed so it's really adaptable?
DCM Architecture and Engineering teamed up with IPI's Planning, Design, and Construction Committee to find out and the result was pretty cool—a virtual-reality fly-by of a future garage that's both flexible and scalable.
In this month's The Parking Professional, DCM Project Liaison Juan Ramos breaks down the project and explains all the thinking behind their vision of tomorrow's garage. It's pretty fascinating—check it out here, and let us know in the comments what you think!