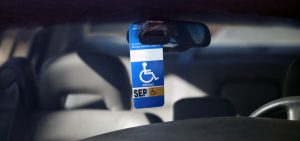 The Onondaga County Sheriff's Office in Syracuse, N.Y., made headlines this week for confiscating several hundred disabled parking permits that were being used fraudulently, largely at large public parking areas. It's happened during a crackdown on abuse of the placards; officers say many are expired or being used by someone other than its owner, purely for convenience.
The sheriff's office uses a legion of citizen volunteers to help target fraudulent users of the permits, through its Sheriff's Accessible Parking Enforcement (S.H.A.P.E.) program, which asks for volunteers to commit four hours per week, undergo a background check and an interview, complete a training course, and verify their personal auto insurance if they'll use their own car on the job. It's a unique program and one the department says works.
Check out the S.H.A.P.E program here, and click here to read more about its most recent crackdown.