By Michael Cramer
A natural disaster is a hard thing to describe until you live through one and are personally affected. During Harvey, my house flooded as did the houses of my mother and my sister. My house sits higher than my mother's and sister's, but I had about two to five inches, my mother had to deal with 10 inches, and my sister had four feet. Usually a tragedy impacts a member of the family and the other members come to the rescue, but not this time. As the waters rose, people became trapped and we watched as volunteers with a flotilla of small boats rescued people from their flooded homes.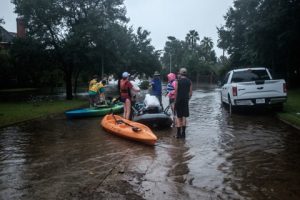 After the rescue, then what? Personal vehicles were in flooded garages. Estimates of the number of vehicles damaged by Harvey range from 500,000 to 1 million. Worse, usually all of a family's vehicles were flooded. Even if vehicles were undamaged, like mine, they couldn't be used because the streets had six feet or more of water in them. My sister's family vehicles were all destroyed.
A few of my neighbors moved their vehicles to high points prior to the flooding and they were quickly able to get back and forth. What if in similar situations, there was a designated vehicle drop zone on a high piece of land where a family could leave one vehicle? Perhaps a nearby parking structure? That vehicle could be accessed after the flood, allowing the flooded family some mobility.
Michael Cramer is principal of Parking Dynamics.
Save