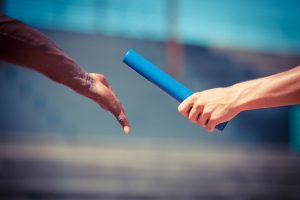 By Rachel Yoka, CAPP, LEED AP BD+C
The Penn Relays, the oldest and largest track and field competition in this country, has been hosted annually since April 21, 1895 by the University of Pennsylvania at Franklin Field in Philadelphia. Our elementary school-aged kids are invited to participate as a part of this venerable tradition—running teams in four-person relays, the 4×100. What that means is that each of these kids, mine included, steps onto this daunting track, situated in a beautiful stadium, to run where some of the greatest track athletes have set world records.
Daunting is an understatement. Many of these relays teams complete the 4×100 in less than one minute, giving everything they have to that effort for that hundred meters. As I watched this past rainy Tuesday, I realized that in this sport, as in life, we are greater as teams than we are individually. No matter how much an athlete trains to give their all to that relatively short stretch of track, no one athlete can do this alone. From the starter to the anchor (the last runner in the team, the one that "crosses" the finish), the team has to get so many small details right, but most of all in the hand-off. Dropping the baton means losing the race.
How do we hand-off our "batons" to our teams, or individuals with whom we collaborate? Do we practice that hand-off to make sure we are working as efficiently as possible? Or do we sent that short email, dumping an important project or conversation to the next person down the line? To do our best work, we need to not only work well alone, pursuing excellence when we are keenly interested. That next step is pretty darn important, too.
Rachel Yoka, CAPP, LEED AP BD+C, is IPI's vice president of program development.