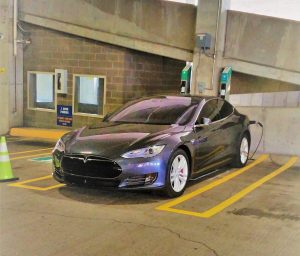 By Teri Morkunas, CAPP
Last fall, the Parking Authority of River City (PARC), Ky., installed electronic charging stations for customers with electric vehicles. The stations are located at the Clay Commons Garage and the First and Main Garage. Each location has two charging stations. These locations were selected because the facilities are connected to hotels and the stations are an eco-friendly amenity for people visiting downtown Louisville. There is no additional fee for plugging in and charging vehicles.
The cost of a charging station ranges from $1,500 to $7,500. The city's stations were chosen because of their ease of installation—there was no need to install new infrastructure and they were easily fit to the existing electrical composition at minimal cost. The stations operate at 208 to 240 volts AC and only require 20-amp circuits.  In addition, these charging stations have retractable cords for easy accessibility and storage so parking personnel do not need to monitor cord storage.
PARC's goal is to have charging stations at all their parking garages by the end of 2017. More to follow.
Teri Morkunas, CAPP, is a senior manager with SP+.