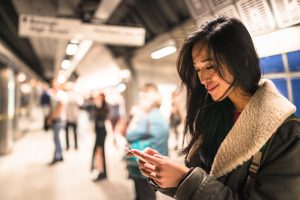 By Scott Reiser
It's not enough to say technology will be the next big trend to hit the parking and transportation industries. Rather, much of the talk at industry trade shows during the past year focused on how systems large and small will use technology in the year ahead to further improve the rider experience.
If all the talk is right, 2017 will be an exciting year. Here are a few of the trends the industry is likely to see in the next 12 to 18 months.
Cross-Modal Mobile Apps
Just about everyone has a mobile device these days and both long-tenured and newly minted transit systems continue to roll out apps. They provide not only service updates (such as schedule and real-time updates), but increasingly allow for multi-modal commuting/traveling across systems using a single app.
Ride Sharing Integration
Ride sharing services have been all the rage for a few years and in many cities, they've overtaken taxis as a primary mode of transportation. Those apps are starting to integrate with public transit systems, allowing commuters a seamless user experience for their entire journey, no matter the mode. When employed, a transit rider can schedule a ride-sharing option to arrive for a pickup as his or her bus or train pulls into the station.
In-Transit Entertainment
Wi-fi and in-transit video have been around for several years, but are now more reliable and more affordable for systems of all sizes. While riders say these amenities add to their overall experience, systems would be remiss if they did not look at how the services can be enhanced with advertising to create additional revenue streams to help defray operating costs. In an era of tight budgets, this could be a huge asset.
Digital Everything
Providing riders with real-time service alerts is the baseline. From pre- and post-trip inspections to counting passengers to automating schedule and dispatch, more systems are launching a single integrated solution that gives unprecedented insights into operations. That means no more paper service logs or manual passenger counts. The obvious benefit to digital is that it reduces the likelihood of human error and increases employee efficiency, often equating to cost savings.
Further Targeting of Millennials
Millennials are driving the increase in public transit ridership. The good news is that many millennials are familiar with public transportation from riding the bus at their college campuses. Municipal systems need to continue to embrace this segment of the population, which they can do by employing the same technology and accommodations to attract younger riders to public transportation once they enter the workforce.
It will be interesting to see how these predictions play out in the months ahead. We know they will help make 2017 the best year yet for transit.
Scott Reiser is co-founder and CTO of Passio Technologies.