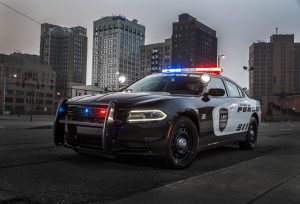 Technology designed for parking may well be on its way to saving the lives of police officers around the U.S. Taking heed of an uptick in ambushes on police officers parked on the street, popular police-car manufacturer Dodge has repurposed its rear-facing ultrasonic parking sensors in cars made for law enforcement.
When an officer is parked with the new Officer Protection Package turned on, those sensors can tell if someone walks directly behind the vehicle—as they would if planning to ambush the officer from behind. A chime sounds, the rearview camera turns on, the front windows automatically go up, and the doors lock.
All of this happens just by installing a small box in the car to transform the existing parking technology into a very clever protection system. It'll be a standard feature in all 2017 Pursuit Charger models—read more here. We think that's pretty cool.