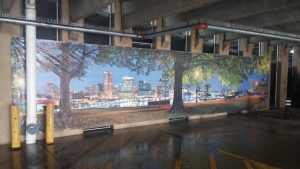 Tiffany James, communications manager with the Parking Authority of Baltimore City, liked Robert Fries's recent post about some great garage art in Virginia Beach so much that she sent us a note about her new installation up the highway.
The parking authority installed a photographic mural outside a garage near its famed Inner Harbor to help mask a secure bike parking area inside the structure. Reaction was so good that the parking authority commissioned the same photographer for another installation—this one inside a garage in the nearby Federal Hill neighborhood.
"The mural is the first thing parkers see when they enter the garage," James says, explaining that it's the view of the Harbor from Federal Hill. "It's a big improvement from the pipes and chain link that it hides and hopefully, makes people smile as they enter our facility."
We sure smiled when we saw it. Thanks for sharing, Tiffany!