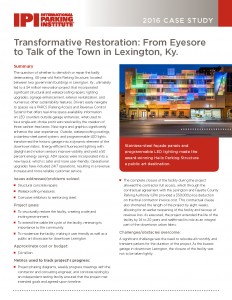 The question of whether to demolish or repair the badly deteriorating, 40-year-old Helix Parking Structure, located between two government buildings in Lexington, Ky., ultimately
led to a $4 million renovation project that incorporated significant structural and waterproofing repairs, lighting upgrades, signage enhancement, exterior revitalization, and numerous other sustainability features. Drivers easily navigate to spaces via a PARCS (Parking Access and Revenue Control System) that offers real-time space availability information on LED counters outside garage entrances; what used to be a single-exit choke point was resolved by the creation of three cashier-free lanes. New signs and graphics significantly enhance the user experience. Outside, waterproofing coatings, a stainless-steel panel system, and programmable LED lights transformed the historic garage into a dynamic element of the downtown fabric. Energy-efficient fluorescent lighting with daylight and motion sensors improve visibility and yield a 50 percent energy savings. ADA spaces were incorporated into a new layout, which is safer and more user-friendly. Operational upgrades have included 24/7 operations, resulting in a revenue
increase and more reliable customer service.
Read the entire case study here.
Do you have a great story to tell? To submit your own case study for publication on the website, please contact sullivan@parking.org.