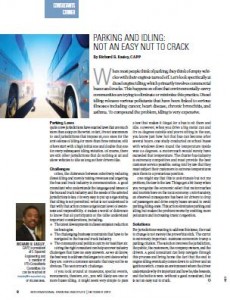 By Michelle Wendler, AIA
In this column, I offer maintenance suggestions for two common green features that either are or may soon be part of your parking structure. Proper planning and maintenance will make and keep these systems excellent life cycle choices for your facility.
Photovoltaic Solar Systems
An advantage (and disadvantage) of these systems is they tend to be out of sight, out of mind. You either have a power purchase agreement that requires the owner to maintain the system, or you own the system and need to maintain it yourself. Your maintenance checklist, courtesy the California Energy Commission Guide to Photovoltaic System Design and Installation, should include:
Wash the photovoltaic array (the collection of photovoltaic panels connected together in modules that face the sun) when there is a noticeable buildup of soiling deposits, during the cool of the day. Your installer should provide maintenance information to define when and how to do this.
Periodically inspect the system to make sure all wiring and supports stay intact. An electrical technician may be needed.
On a sunny day near noon around March 21 and September 21 each year, review the output of the system (assuming the array is clean) to see if the performance of the system is close to the previous year. Maintain a log of these readings to identify if the system's performance is consistent or declining too rapidly, which may signify a system problem.
You also need to plan for system replacement. The two critical parts of the system are the inverter and the photovoltaic array.
The solar inverter performs the conversion of the variable DC output of the photovoltaic module(s) into a clean current that is applied directly to the commercial electrical grid. Most inverters will come with a five-to-10 year warranty but will last 15 to 20 years.
The warranty on most photovoltaic modules is 20 to 25 years. They can last upwards of 30 years. Over time, the output of the panels will begin to go down.
Bio-Retention Areas
A bio-retention area is a depressed area with porous backfill under a vegetated surface. These areas often have an under-drain to encourage filtration and infiltration. Bio-retention areas provide groundwater recharge, pollutant removal, and runoff detention. These features are commonly found in parking lot areas and can be used around parking structures to filter the runoff from the lot or top deck.
Bio-retention removes stormwater pollutants such as hydrocarbons and heavy metals through physical and biological processes.
Bio-retention areas require landscaping maintenance, including measuring to ensure the area is functioning properly. They often initially require intense maintenance but need less over time as plants mature. In many cases, maintenance tasks can be completed by a landscaping contractor. Landscaping maintenance requirements can be less resource intensive and therefore less expensive to maintain than areas such as elevated landscaped islands in parking areas.
At installation, the design team should provide you with information about how long you should expect to see standing water prior to it filtering in the ground. After large rain events, monitor that the system is not holding water longer than you anticipate.
The good news is there are no moving parts in this system. You should plan to replace the top two inches of soil every 15 years and budget for some replanting.
As you can see, the requirements for ongoing maintenance and long-term replacement planning are not extensive for these systems, making them good life cycle choices.

Michelle Wendler, AIA, is principal/architect with Watry Design and a member of IPI's Sustainability Committee. She can be reached at mwendler@watrydesign.com or 408.392.7900.
TPP-2012-10-Parking and Idling