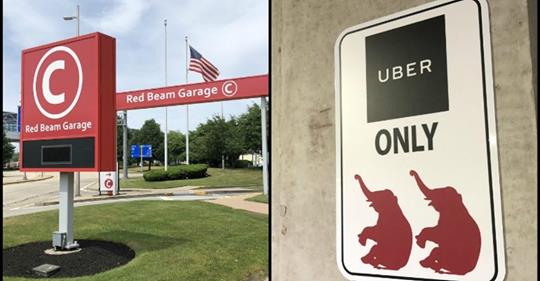 Propark Partners With Uber at Red Beam Garage C
(Hartford, CT) – Propark America announced today that it has partnered with Uber to pick up T.F. Green Airport travelers at the Red Beam Garage C.
"Propark is excited to partner with Uber on a program that brings back convenient and affordable ride-sharing services to the many customers who utilize T.F. Green Airport for their traveling needs," said Sean Lampert, Propark's regional vice president. "We look forward to providing another avenue of ease and convenience for these travelers at the Red Beam Garage C through this partnership."
The Red Beam Garage C, which is conveniently located next to T.F. Green Airport, is a short, covered three-minute walk to the terminal via a covered walkway. Travelers will now be able to request their Uber ride upon returning to the airport and meet their driver at the privately-owned Red Beam Garage C.
"We are partnering with Propark to ensure that Rhode Island residents and visitors can once again get an affordable, reliable ride when leaving the airport," explained Alix Anfang, Uber's spokesperson.
Managed with pride by Propark America, the award-winning Red Beam Garage C is owned by New England Parking Company and is a destination or meeting point for visitors and travelers alike.
For more information about the Red Beam Garage C visit www.redbeamgarage.com. About Propark America
Propark America is one of the country's largest privately-owned parking companies, providing
full-service parking solutions and mobility services for all business types, in over 75 cities across the United States. For more information, please visit www.propark.com.
About New England Parking Company
New England Parking Company is a private, commercial real estate investment firm focused primarily on parking and retail-related assets and based in Providence, Rhode Island.
Contact:
Dennis Safford
dennis.safford@propark.com | (860) 856-4104
###