Apps make getting around Chicagoland easier, more convenient and faster
Chicago, Ill. (April 3, 2018) — If the 20th century is considered the century of the automobile, then the 21st century will evolve with citizens at the helm of how they commute through a variety of innovations in transportation.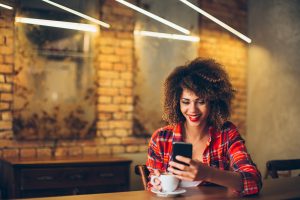 Today, Chicagoland commuters have more choices than ever. While 50 percent of commuters are opting to drive during their weekday commute, the other 50 percent are opting for a quicker and more convenient way into the Chicago Loop with public transit. Price is always seen as a determining factor to how people travel but time is becoming increasingly more important.
According to Passport, the global leader of mobile payments for parking and transit, the City of Chicago as well as the towns and villages near Chicago have turned to technology to make driving and commuting across Chicagoland easier through mobile parking payment apps. Parkers in the city can have been using the ParkChicago app, made by Passport, to pay for parking on the go in the city's more than 36,000 on-street parking spaces, and at the same time over 70 Metra park-and-ride lots along Chicago's commuter line have implemented the PassportParking® app. In total, Chicagoans have used the Passport-powered apps over 40 million times in the last 5 years to pay for parking from the convenience of their smartphones.
The Passport parking apps are found to be an easy alternative to traditional payment methods, like paystations or cash boxes. The apps enable motorists to start and extend parking sessions remotely, allowing Metra riders to take the train while avoiding lines to pay. The apps send alerts and notifications about parking sessions; provide payment history; and email receipts at the end of each parking session.
"Towns and villages want to provide the same conveniences of major cities like Chicago," said Passport executive David Singletary of the surge in Illinois clients. "The old way of parking at a commuter lot is time-consuming and outdated. Add Illinois' often inclement weather to the scenario and it can be uncomfortable and frustrating—day after day. The Passport mobile payment system smoothes over all of those friction points."
Metra has 11 separate lines connected to the Chicago Loop, and serves more than 100 communities at 241 rail stations. According to Metra, the commuter rail line travels nearly 500 route miles and has an average weekday ridership of almost 300,000 people. In The Daily Line podcast, "Predicting the Future of Transportation in Chicago," Audrey Wennink, director of transportation policy at The Metropolitan Planning Council, shared how people are moving in cities like Chicago. "The only two cities that have more transit riders are Los Angeles and New York City—really dense cities. Most other cities have 75-80 percent of drivers. As we move into the future, we have to make sure we sustain our transit system. It's a real jewel," said Wennink.
Moovit Insights reports that the average commute in Chicago is 86 minutes, similar to commutes in Los Angeles and New York City. The morning travel time is often made longer when motorists must drive to the nearest commuter parking lot and pay for parking with outdated methods. Depending on the Metra lot, people must cram cash into a metal box to pay (with no proof of payment provided); or walk to a machine and punch in the space or plate number; or lastly, go to a pay-and-display station where they pay at a machine, grab a ticket and walk back to the vehicle to display the ticket on the windshield, all while racing to board the train. Simply put: the time adds up, and the experience can be problematic, especially if the rider forgets cash or misses the train. However, with the PassportParking app, commuters can simply park, and pay on the go from wherever they may be.
"As the needs of commuters in Chicago continue to change and grow, the technology options need to align. The PassportParking app provides a much-needed convenience to daily commutes," said Singletary.
Passport is the industry's leading mobile technology solution specializing in enterprise business applications and payments for the public and private sectors. The company partners with more than 60 municipalities in Illinois. The PassportParking app is free to download through the App Store or Google Play. Users can also manage their parking at ppprk.com.
About Passport
Passport transforms the way cities manage their operations. The fintech company's mobile-first platform has been adopted by more than 450 cities, universities and private operators around the world in cities including Chicago, Toronto, London and Miami, across more than 5,000 locations. Passport's product lines —– parking, transit and tolling payments, parking enforcement and permit management —– enable organizations in the public and private sectors to streamline their operations, enhance customer service and make data-driven decisions. Consistently recognized as one of the fastest growing companies and Best Places to Work in Charlotte, North Carolina, Passport has an ingrained practice of putting People First —– a guiding principle in its Culture.
Passport is backed by a group of investors, including Bain Capital Ventures, Grotech Ventures, MK Capital and Relevance Capital. Learn more, or get in touch with Passport at passportinc.com.
###
Media Contact:
Stacy Sneed
Marketing & Communications Manager
Passport
(704) 823-6021
stacy.sneed@passportinc.com