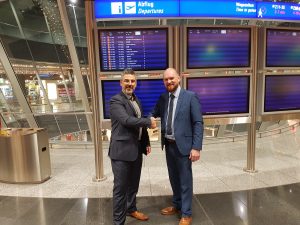 Global online parking reservation provider, ParkCloud, today announced its contract renewal with long-standing airport client, Budapest Airport, following a lucrative two-year partnership.
The renewal announcement builds upon the success of the previous contract, offering passengers driving into Budapest Ferenc Liszt International Airport the option of reserving parking at all the airport's on-site parking facilities.
Effective collaboration between the two companies has seen extensive growth in booking numbers across all six on-site car park locations, underlining the increasing customer appetite for reserved parking options.
Holiday Parking Lite – a long-term, cheaper parking option – has seen particular stand-out growth, with reservation booking numbers more than tripling in the last 12 months as passengers seek out the best deals online.
The renewed two-year contract will continue to provide enhanced online coverage for Budapest Airport's parking facilities, which also receive added exposure to passengers flying with airlines partnered with ParkCloud, notably Hungarian low-cost carrier Wizz Air, headquartered at the airport and currently offering flights to 40 countries.
Manel Moreno, Head of Landside Services at Budapest Airport, said:
"After reaching record passenger numbers at the close of 2017, it is more pertinent than ever that the services we offer our customers are reliable and add value to the overall customer journey.
"The partnership with ParkCloud clearly represents a synergy between our shared brand values, and as such, we are keen to develop and expand on the success of the last three years in the upcoming contract term."
The collaboration between the airport and ParkCloud is facilitated by the integration with on-site hardware from Designa, a global leader in car park management systems and access control equipment. The integration means that automatic number plate recognition (ANPR) is available to customers, in addition to individual barcodes, permitting automated access when scanned at the relevant car park entrance, at any time – night and day.
To find out more about ParkCloud, please visit www.parkcloud.com. 
About ParkCloud 
ParkCloud, simply put, lets drivers book a parking space in advance, in the same way as it's possible to do with hotel rooms, restaurant tables…and even a coffee these days.
When travelling, parking is usually the last thing on anybody's mind, but research shows that as much as 20 minutes is wasted when searching for a parking space. ParkCloud aims to solve that problem by letting customers make a parking booking, whether they are getting on a plane, taking a cruise, catching a train, or visiting a city or event.
ParkCloud was founded in 2008 as an online parking reservation service and within the nine years we've been operating our success and growth has been rapid; we've gone from our three founders to employ over 20 members of staff; from one country to over 40; and from two languages to over 20 – and we don't plan on slowing down.
Today we are an award-winning, global provider, working with car park operators across 40 countries to include them on our comparison search engine, which aims to give consumers the most user friendly, efficient service possible when they need it most.
This bookable parking network is also made available to travel industry partners to help complete the itineraries of passengers worldwide.
Winner of Queen's Award for International Trade