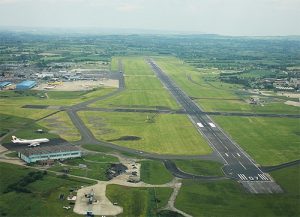 Since beginning a partnership in late 2015, ParkCloud and Belfast Airport are continuing to work together to offer parking at the airport.
Belfast International Airport is located 13 miles northwest of Belfast, and was formerly known and sometimes still referred to as Aldergrove Airport. It is the busiest airport in Northern Island and the second busiest in Ireland – over 5.1 million passengers travelled through the airport in 2016 – a 17% increase compared with 2015.
In the second year of the collaboration changes were made which meant ParkCloud adjusted to suit the requirements of the airport.
Deirdre Graffin, Commercial Manager at Belfast Airport said –
"In 2016, the car parks at the airport where all renovated, featuring new barrier designs and upgraded features for drivers. Now managed in-house, another change for the car parks included changing the reservation systems provider. This change meant that ParkCloud had to change the integration for Belfast International Airport on its site. Keeping on top of its clients' needs and adapting to suit its changes is one of the ways ParkCloud continues to be a flexible partner, easily suiting the needs of its collaborators."
All of the official airport car parks are available to be booked through the ParkCloud reservation system, with a range of services from Long Stay Saver to last minute shorter stay options.
As well as promoting the car parks on ParkCloud's own website, Belfast International Airport also benefits from its services being promoted by the brands and airlines ParkCloud works with. Customers are able to book parking through white labels created for airlines like WizzAir.
Joining an extensive list of official airport car parks that are available to its customers, ParkCloud looks forward to continuing to work with Belfast International Airport.
About ParkCloud
ParkCloud, founded in 2008, lets drivers book a parking space in advance, in the same way as it's possible to do with hotel rooms, restaurant tables… and even a coffee these days.
When travelling, parking is usually the last thing on anybody's mind, but research shows that as much as twenty minutes is wasted when searching for a parking space. ParkCloud's award-winning service aims to solve that problem by letting customers make a parking booking, whether they are getting on a plane, taking a cruise, catching a train, or visiting a city or event. In 40 countries and counting!
Contact Details
Grace Scott
PR & Communications Executive
grace.scott@parkcloud.com