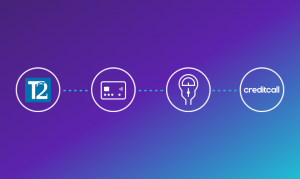 Parking operators can instantly upgrade to EMV while addressing customer payment preferences of unattended (self-service), attended (in-store), and online.
New York/Indianapolis, February 22, 2017 – Creditcall, the payment gateway and EMV migration specialist, and T2 Systems, a technology-focused parking systems provider, today announced the availability of a single unified EMV-certified payments platform for the parking sector that delivers omni-channel acceptance for attended and unattended payments. The solution incorporates an industry leading 38 EMV-certified payment device and processor combinations including the unattended Globalcom EMV chip card payment terminal BV1000, is pre-certified with Chase Paymentech, Global Payments, Elavon, and First Data and the Ingenico terminal iPP 320 with the latter two.
Payments as we know are changing – according to a recent U.S. Payments Forum report, 9 out of 10 Americans now use EMV chip cards. At the same time consumer purchasing behavior has evolved with an increasing number shopping online, in stores, and on the go using mobile devices. A similar cohesive and convenient experience is now expected outside of traditional retail, including parking garages and lots. This requires a payment processing platform which is synonymous, unified, and integrated. Unfortunately, many merchants today are using disparate payment solutions.
The Creditcall T2 partnership eliminates the need for multiple payment gateways and solution providers as well as the associated complexities and cost, by providing one central payments platform for all transactions. The solution facilitates a quick and pain-free upgrade path to EMV. It includes a centralized reporting and management tool, point-to-point encryption (P2PE) for the highest level of cardholder data protection, and a terminal management system (TMS). The integration is very simple, relying on on Creditcall's portfolio of SDKs, ChipDNA. With one build of code, on-site and online payments can be supported on multiple payment devices across multiple processors.
"Many companies make the statement of being EMV ready. That means they could start an EMV certification with their equipment, however each certification can take up to six months per processor and per terminal", said Scot DeLancey SVP, Strategy and Product at T2 Systems. "Since ChipDNA is EMV certified with four major processors; First Data, Chase, Global & Elavon, customers can start doing EMV transactions as soon as May 2017. This reduces the scope and burden for our customers and eases the transition to EMV."
"Changes in technology, consumer behaviour, and regulation create needless headaches for merchants, putting an additional strain on resources" said Lars Pedersen, CEO at Creditcall. In collaboration with T2, parking operators can now provide their customers with a consistent, seamless, and convenient experience when paying for their parking while also transitioning to EMV chip cards."
For more details, visit the Creditcall booth #605 and the T2 booth #400 during PIE at the Hyatt Regency O'Hare Hotel, Rosemont IL, on March 5-8, 2017.
About T2 Systems
Started in 1994, T2 Systems is a technology-focused parking systems provider with deep roots in the evolving parking industry. This commitment is evident in T2's quality products and services, thought leadership and strong customer relationships. The company's unified parking management and payment solutions provided under the T2 and Digital brand are in use by more than 1,000 organizations throughout the US and Canada, including universities, cities, towns, hospitals and parking operators. T2 Systems has offices in Indianapolis, Vancouver and virtual offices throughout North America.
For additional information about T2 products and services, visit www.T2Systems.com
About Creditcall
Creditcall provides the tools to enable secure payment acceptance in-store, self-service, online and mobile. From retail and hospitality, to parking, vending, transportation or charity applications, Creditcall's omni-channel Payment Gateway and EMV Kernels are at the very heart of its partners' businesses, enabling them to focus on what they do best.
Creditcall is an EMVCo Business and Technical Associate, a PCI SSC Participating Organization, a Mastercard accredited MEPSA company and member of the U.S. Payments Forum with offices in Bristol, UK and New York, USA.
To find out more visit www.creditcall.com or engage with us on Twitter @Creditcall.
Media Contacts
Terri Taylor
VP, Marketing & Corporate Communications, T2 Systems
terri.taylor@t2systems.com
T: 317-524-7421
Ingrid Anusic
Head of Marketing, Creditcall
ingrid.anusic@creditcall.com
T: +44 (0)117 930 4455