Wanted: Students with Innovative Solutions to Parking and Transportation Challenges to Enter International Competition
New, international competition strives to discover and showcase the Next Big Idea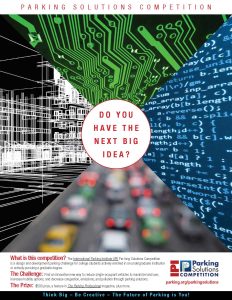 (ALEXANDRIA, Va. – Dec. 21, 2017) Are you a student with innovative ideas that might solve parking and transportation challenges? Here's your chance to showcase your talent in a student competition sponsored by the International Parking Institute, the world's largest association of parking professionals.
IPI invites college students, working either independently or in multi-disciplinary teams, to enter its inaugural Parking Solutions Competition, a design and development challenge based on real-world scenarios. The world's largest parking organization seeks to tap bright, young minds in hopes of discovering the Next Big Idea in parking.
"Technology, a focus on sustainability, and a driver-friendly approach to parking has revolutionized the parking industry in the past decade," explains IPI CEO Shawn Conrad, CAE. "We know that college students are an untapped resource of new ideas, just waiting to be applied, and are very excited to see the results of this competition."
Up to four finalists will be selected, based on creativity, innovation, realism, applicability, scalability, overall presentation, and ability to benchmark success and demonstrate return on investment.
One member of each finalist team will be sent to the IPI Conference & Expo in New Orleans, La., May 21-24, 2017, to meet international experts and present their innovative idea at the Parking Solutions Competition ceremony. Each will receive roundtrip airfare and a two-night hotel stay, conference registration (valued at $1,299), and a one-year IPI student membership.*
IPI's Parking Solutions Competition is open to any student actively enrolled in an undergraduate institution or pursuing a graduate degree, competitors must be 18 years of age or older as of May 18, 2017. Entrants must first register and provide a 1,000-1,500-word narrative on their concept, which may feature a mobile application; website or online service; plans, drawings, and/or graphics; and/or 3/D models, animation, or video. (To discuss additional formats, contact Stephanie Santoro at santoro@parking.org.)
The deadline for submissions is February 15, 2017. More information about registering can be found at www.parking.org/parkingsolutions.
The Grand Prize winner will receive $500 and be featured in IPI's award-winning magazine, The Parking Professional, as well as traditional and social media.
Could entering this competition be your ticket to success? CEO Wen Sang, attributes the success of his company SMARKING to winning a similar IPI competition in 2015 while working on his PH.D.
*International travel not included.