NEXT – 347 W. Chestnut, Chicago, Illinois
By John W. Hammerschlag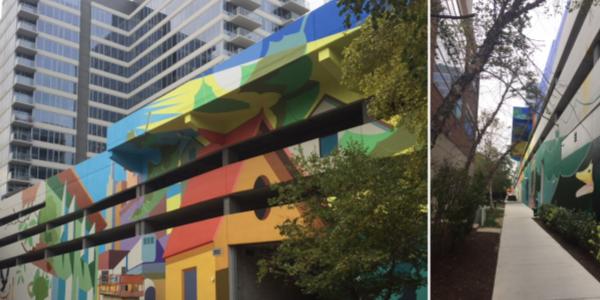 The E2 Apartment building, located at 1890 Maple Avenue in Evanston, Illinois, was completed by Fifield Companies in 2015. The 16-story unit received the 2015 Significant Contribution Award in New Construction from Design Evanston and the 2016 Gold Key Award for Best Overall Community from the Home Builders Association of Greater Chicago.
Hammerschlag & Co., Inc. served in an advisory capacity to give recommendations on lighting, signage, equipment, and marketing.
Similar to the Sinclair in Chicago, Illinois, Fifield Companies opted to transform the blank concrete walls of the garage exterior into public art. Thomas Melvin, a local Chicago artist, was commissioned to create the larger-than-life mural that faces the alley. John Hammerschlag had worked with Tom Melvin at the Wabash Randolph garage in the early 1990s.
Titled Eee-tu (What Redwing called to Drake), the mural is an abstract homage to Evanston's vibrant community and natural beauty, from Lake Michigan, wild grasses, the Grosse Point Lighthouse, the El train that connects the city to its larger neighbor to the south, and the mural's namesakes: the redwing blackbird on one end and the drake on the other.
Developers constantly find new ways to make buildings more attractive to prospective tenants. Turning blank concrete walls into colorful public art that embraces the spirit of the community is becoming an increasingly popular method of achieving this goal. In a nod to the Evanston community, this vivid artwork is visible to those attending Evanston's Farmer's Market from May to November.
John Hammerschlag is President of Hammerschlag & Co., Inc. and is a member of IPMI's Planning, Design, and Construction Committee. He can be reached at john@hammerschlagparking.com.