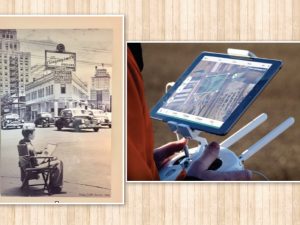 By L. Dennis Burns, CAPP
I looked at some pictures recently that left me with two thoughts. The first was simple amazement at the rate of technological progress that has been made. The second was, "Wow, you must really be getting old!"
The first photo was of a Kimley-Horn employee doing manual traffic counts around 1965. While this was a little before my car-counting days, I have done my fair share of manual car counts. The second image was from a recent proposal in which we highlighted our data collection methodologies using unmanned aerial vehicles (UAVs), or drones.
Right now, there's a big shift underway in data acquisition—drones have finally matured to the point where they are saving time and money on projects across the world. The benefits run further than just speed; drones are helping collect more detailed data, improve safety, and reach inaccessible areas.
For those looking for a complete drone solution—which is a combination of both the actual drone, analytics software, and enterprise-ready support—it can be hard to figure out how to get started. Based on our experiences, we have defined six essential guidelines to take into account if you are considering a drone solution:
Airspace.
Data (Not the drone).
Data quality (absolute and relative accuracy).
Image quality.
Interoperability and work flow.
Support.
Interested in more information? We have developed a guide to integrating drone technology into your projects that we are happy to share! Email me at dennis.burns@kimley-horn.com.
L. Dennis Burns, CAPP, is regional vice president of Kimley-Horn.