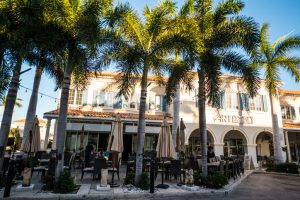 By Juan Ramos, LEED AP BD+C
I recently had the good fortune to go on a work trip to The Turks and Caicos Islands (humble brag). It's one of the most beautiful places I've ever seen, though you can't shake the nagging thought of the effect that just a small change in sea level could have on such a flat, low-lying island. Several buildings still show extensive damage from the last hurricane season.
In the buildings still standing, you can see some of the best green building practices being implemented—the ones that cost little and have nothing to do with products, but rather with working with the site. Before pen is put to paper, this means considering the orientation and doing a sun/shade analysis, which is incredibly important in the hot tropic sun. Study prevailing winds to optimize natural ventilation, recycling materials, rainwater harvesting, etc. Use shipping containers, for example, not because they're trendy, but because they're cost-effective, available, and everything you use has to be imported.
It's easy to see the link between our willingness to address issues of sustainability and the availability of resources. There's a financial motivator. As long as we can afford comfort, we're not not always motivated to act sustainably. (Most people will set the thermostat differently, depending on who's footing the bill.) You can think of it as: Discomfort > Economic Capacity → Sustainability.
We should  continue talking about cost in terms of more than just money, while at the same time, learning a lesson from the greenest approach to sustainability: Designing for comfort can be as simple as learning to spot where the sun don't shine.
Juan Ramos, LEED AP BD+C, is project liaison with DCM Architects and Engineers.