Parklets, Eh?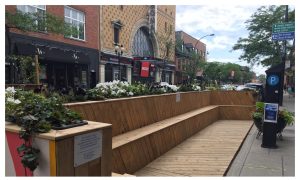 By Michelle W. Jones, CMP
My first encounter with a parklet was in Raleigh, N.C. I still carry a business card in my notebook that explains, "A parklet is a way to extend the sidewalk, creating a public space for people to sit and relax in an urban area. Parklets are installed on street parking lanes and are designed to be movable."
Last weekend, in Montreal, Quebec, I was pleasantly surprised to discover a parklet in Les Quartiers du Canal (the neighborhoods of the canal), a quaint area where locals shop and dine. On the sign posted on the bench, it says in French, "This street furniture is a public space. No commercial activity is permitted within this development. An initiative of the society of commercial development. The neighborhoods of the canal."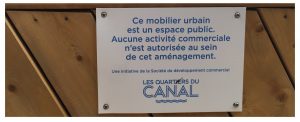 While on a tour of the city, our guide proudly pointed out where many restaurants have additional seating outside in parklet-style setups, rather than blocking the sidewalk. I said, "They are blocking the parking spaces." She said, "We don't care!" I couldn't resist exclaiming, "But PARKING MATTERS!"
Michelle W. Jones, CMP, is IPI's director of convention and meeting services.