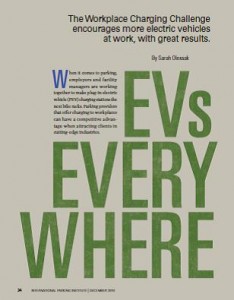 By Sarah Olexsak
When it comes to parking, employers and facility managers are working together to make plug-in electric vehicle (PEV) charging stations the next bike racks. Parking providers that offer charging to workplaces can have a competitive advantage when attracting clients in ­cutting-edge industries.
Employers have long recognized that important sustainability efforts, such as workplace charging, enhance their overall corporate image. In the past few years, employers have also recognized that investing in workplace charging tangibly contributes to their environmental stewardship efforts, attracts and retains top talent, and demonstrates their concern for employee quality of life.
Leaders from across the country are partnering with the U.S. Department of Energy (DOE) through the EV Everywhere Workplace Charging Challenge to achieve a tenfold increase in the number of employers offering workplace charging by 2018. In fact, more than 140 U.S. employers have already committed to providing employee access to PEV charging stations at more than 300 worksites across the country.
Challenge partners currently offer access to PEV charging stations to more than 600,000 employees and are influencing countless other organizations to do the same. These leaders are accelerating the development of the nation's worksite PEV charging infrastructure and supporting cleaner, more convenient transportation options within their communities.
Workers Embrace Electric Vehicles
Many employers have observed an "if you build it, they will come" phenomenon, as an increasing number of employees purchase PEVs after charging stations were installed where they work.
Sean Asure, an employee of MetLife, says, "MetLife's provision of workplace charging was the main reason my family looked into purchasing a PEV. It is such a great benefit in terms of cost savings. When we looked at the vehicle options, a PEV made sense."
In addition to convenience, workplace charging reduces fuel and maintenance costs for PEV-driving employees. Drivers across the country are recognizing the many benefits of PEVs. 2014 sales reached nearly 79,000 in the first eight months—a 32 percent increase over the same period in 2013. As of September 2014, more than 250,000 PEVs were on U.S. highways, powered by electricity made in America. These drivers can fuel their vehicles at a price of about $1.
Ambassadors
The Workplace Charging Challenge enlists stakeholder organizations as ambassadors to promote and support workplace charging. These 17 ambassador organizations, including the International Parking Institute (IPI), independently develop resources and help educate employers through special events and workshops on PEVs and workplace charging.
"The Workplace Charging Challenge provides invaluable resources and technical assistance to our members," says Rachel Yoka, LEED AP BD+C, IPI's vice president of program development. "IPI has a critical role to play by increasing both awareness and education on the successful implementation of workplace charging. As identified in our Sustainability Framework, our members comprise a critical piece of the infrastructure puzzle to increase adoption of electric vehicles across the country; as an industry, we will be part of that solution to advance cleaner cars, cleaner fuels, and reductions in emissions and pollution."
As more employers wish to install charging stations in the parking lots and garages of their leased facilities, the Workplace Charging Challenge is identifying best practices and developing resources with the help of parking professionals and green building experts. The Challenge also offers technical assistance, whether an employer is installing workplace charging for the first time or expanding existing programs to respond to employee demand. The Challenge recently released a charging station procurement guide, an Americans with Disabilities Act compliance guide for installing workplace charging, and an employee outreach toolkit.
Join the Charge
The DOE Workplace Charging Challenge is open to employers of all sizes and industry types in all regions of the United States. Taking the Challenge offers benefits to employers who are considering installing PEV charging stations along with those who have successfully launched workplace charging programs. Becoming a partner in the Challenge allows your organization to gain access to informational resources, peer-to-peer networking, one-on-one technical assistance, and recognition for your workplace charging efforts.
More than 70 percent of partners surveyed reported receiving outside recognition for their workplace charging efforts. Survey respondents also noted that they are receiving positive staff feedback, with 95 percent of partners' employees expressing satisfaction with their workplace charging program. For information, visit electricvehicles.energy.gov or email workplacecharging@ee.doe.gov.

Sarah Olexsak is Workplace Charging Challenge coordinator with the U.S. Department of Energy. She can be reached at sarah.olexsak@ee.doe.gov or 202.586.2149.