eleven-x Unveils eXactnav to Provide Drivers With Easy Real-Time Parking Space Visibility and Navigation
Innovative app features multiple wayfinding and personalization options, giving drivers a faster and more convenient way to find parking.
WATERLOO, ONTARIO – eleven-x™, a leading IoT and Smart City technology company specializing in accurate, real-time stall occupancy monitoring, today announced the launch of eXactnav™ – a proprietary navigation app to help drivers easily and quickly find available parking. The app seamlessly integrates with the company's award-winning, smart parking technology solution, eXactpark™ to provide real-time parking information and flexible navigation options to open spaces. By assisting drivers in finding suitable parking, eXactnav helps reduce searching and improves mobility and sustainability while supporting greater community safety and balanced stall use.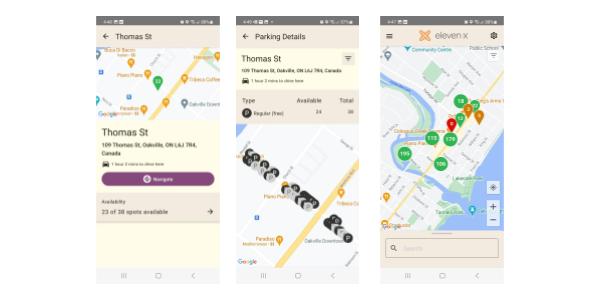 The comprehensive app offers multiple navigation options that drivers can choose from:
Spot – drivers can choose a specific parking stall and the app will provide navigation to that exact spot. Importantly, since the app integrates with eXactpark's real-time parking data, if the space becomes occupied while a user is driving to it, the app suggests other available options
Destination – when going to a specific destination, the user can select the area on the eXactnav app to see available nearby parking spaces
Zone – users can search for available parking options within a certain area or radius of the city/location
Drivers can filter to find parking availability by space type including paid, free or reserved parking; handicap accessible spaces; electric vehicle charging stalls; parking zones with time or loading limits (like quick stop/15-minute parking) and motorcycle stalls. These settings can also be saved on the app for later use.
"eXactnav furthers our mission to improve the parking experience for all," said Dan Mathers, CEO, eleven-x. "Drivers will appreciate the app's stress-free navigation and personalization options. Additionally, for the cities and institutions who are already leveraging our eXactpark smart parking solution, eXactnav is another powerful asset that will help them further reduce traffic and improve mobility." 
Additional unique features that make the app stress-free for drivers and enable them to customize it include:
Future Availability – drivers can select a space in advance and receive a notification when it becomes available, allowing people to plan in advance.
Parking History & Favorites – maintains a history of users' parking sessions and allows them to save their favorite parking locations or zones for quick access in the future.
Accessibility – has features like text-to-speech input, high contrast text / background design and larger font size settings.
The smart parking app, which is set to launch this fall, is compatible with Android phones (versions 9, 10, 11, 12, and 13) on Google Maps and iOS devices (versions 15 and 16) with Apple or Google Maps. For more information, please visit eleven-x.com.
About eleven-x Inc. 
eleven-x™ is an industry leading IoT and Smart City technology company focused on improving the parking experience for all with its award-winning, smart parking technology solution, eXactpark™. A comprehensive software platform, eXactpark enables drivers to find available parking quickly and easily in real-time while delivering accurate and reliable 24/7 data to enable numerous use cases including curbside management, demand-based pricing and improved compliance while helping optimize parking resources. Powered by the patented SPS-X™ wireless space occupancy sensor, eXactpark reduces traffic, improves safety and lowers GHG emissions. The solution is being utilized by cities and institutions across North America to successfully address mobility challenges. Customers rely on the company's world-renowned expertise for an easy-to-use, fully scalable smart solution to deliver better services. Visit eleven-x.com for more information and follow us on Twitter, LinkedIn, and YouTube.