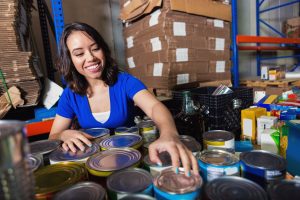 Parking industry gives back as cities trade food donations for the hungry in exchange for parking ticket fines.
Alexandria, Va. — Paying a parking ticket can make anyone feel like Scrooge, but what if your payment could help feed those in need? This holiday season, a growing number of cities are waiving their parking-ticket fines in exchange for donations to local food banks.
Among the earliest adopters was the Lexington, Ky., Parking Authority (LPA), which has received national attention for its innovative "Food for Fines" program that excuses $15 in parking fines for every 10 cans of donated food. In its first year, the program generated 6,200 cans of nonperishable foods in lieu of more than 600 meter citations valued at $14,500, says LPA Executive Director Gary Means, CAPP. Last year, the program expanded from only street-meter violations to all parking citations, amassing 10,000 cans, or five tons of food for local charity God's Pantry — enough for 8,370 meals.
"People are excited about the opportunity to clear their records and help those in need at the same time," Means said. "The program has been such a success that we are doing it again this year — in fact, we are adding an additional week to the program."
This year, Tallahassee and Tampa, Fla., will take $1 off parking fines for every donated can of non-perishables.
The Las Vegas City Council approved a program to allow donations of food or children's toys equal in value to the parking fine during the upcoming holiday season, according to the city's parking manager, Brandy Stanley.
The City of Albany, N.Y., excused late fees on parking tickets for citizens who donated canned goods, and managed to collect 5,000 meals' worth of food. "People were happy to pay their parking tickets," said Darius Shahinfar, treasurer, City of Albany.  "How often do we see that?"
"It would be nice to never have to pay parking fines, but enforcement keeps chaos in check and ensures safe and available parking for all," said Shawn Conrad, CEO of the International Parking Institute, the world's largest association of parking professionals. "We are especially delighted when our members find new ways to provide a public service to the communities they serve."
# # #
Media contact:
Helen Sullivan
703.606.7622
sullivan@parking.org 
Interviews welcome