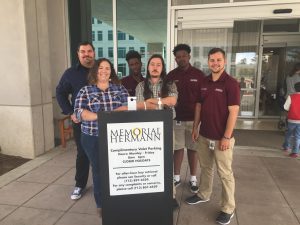 By Nicole Chinea, CAPP
I recently had the opportunity to spend some one-on-one time with our valet teams. One of these visits was on a Friday morning when the sun was shining bright in Houston and air was crisp. I have always loved getting back in the field but my takeaways from this visit were all-around beneficial. It was great to meet the people who make our operation tick: the boots on the ground, the smiles that greeted me when I arrived, and watching a valet beat a driver to assist an elderly patient out of a vehicle.
More important was the feedback I received during my time with the teams. I was meeting some for the first time and they reached out their supervisor after I left and expressed how thankful they were for our time together. There was an interest in moving up in the industry.  Others had great ideas about improving operations or business growth.
It is easy to become a slave to meetings and my field visit made me realize this more than ever. Our teams are what make our up business. While I love parking, I love the people of parking the most. I have never met more passionate and driven people. I encourage you to block your calendar and get out of the office. Spend time with the people who represent your organization. They will thank you and you will thank yourself!
Nicole Chinea, CAPP, is regional vice president of operations with Winpark.