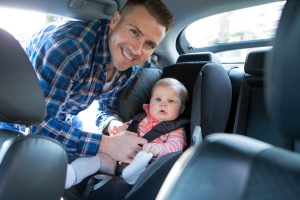 By Victor A. Hill, MPA, CAPP
Offering child car seat inspections is a great way to promote your services and build partnerships. Parking and transportation operations are ideal locations because the facilities are —at the risk of stating the obvious—ideal places to park cars and assist families.
Our university began its program in 2014 in partnership with our human resources department. Employees with babies on the way are encouraged to contact me to set up an appointment to learn how to install their car seats. I attend the university's annual benefits fair to answer questions and schedule appointments. The service is provided to anyone in the community at no cost as well.
The primary obstacles to creating such a program are time and money. The National Child Passenger Safety Certification takes one week to complete and class costs vary. I received my certification through a state grant that was offered to increase the number of car seat technicians in our state.
The public relations benefits outweigh these challenges. University employees appreciate the opportunity to take advantage of the service at work. We partnered with several local agencies, including our county health department and local fire departments, to offer community seat check events. We provide a community benefit that promotes safety and offers a positive side of parking many people don't often see enough.
Consider becoming a certified technician and adding a unique, needed service your community will appreciate.
Victor Hill, MPA, CAPP, is the director of parking and transportation services for the University of Wisconsin-La Crosse.