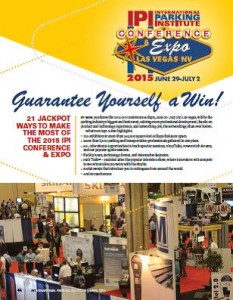 By now, you know the 2015 IPI Conference & Expo, June 29–July 2 in Las Vegas, will be the parking industry's biggest and best event, offering more professional development, hands-on product and technology experience, and networking (oh, the networking!) than ever before.
What's on tap? A few highlights:
225 exhibitors in more than 150,000 square feet of Expo hall floor space.
More than 3,000 parking and transportation professionals gathered in one place.
60+ educational opportunities in track-specific sessions, ShopTalks, PowerPitch forums, and our popular Ignite sessions.
Facility tours, technology demos, and informative keynotes.
Park TankSM—modeled after the popular television show, where innovators will compete to see whose idea can swim with the sharks.
Social events that introduce you to colleagues from around the world.
And so much more!
Make the Most of It!
It's a lot to see and do in a few short days. To help you make the most of your experience, we asked previous Conference attendees for their best tips. Use these 21 ideas to guarantee yourself a winning time in Las Vegas this summer!
1 "Decide what is the most important item needed to assist your business and work the room accordingly. Give yourself plenty of time to ask questions about the needed item, because you will find that you have even more questions. Plan the work and work the plan for making important discoveries."
2 "Sit down, grab a drink, and get to know people in your field! Rarely do you get to talk to other parking professionals, and they have a lot of great ideas to share. As for the Expo, grab a cup of coffee and go, go, go. The vendors are incredibly friendly and have some really exciting products. Learn about them. You might find something that'll revolutionize your work. There's plenty of time, so hit the floor and just start walking and talking."
3 "Spend as much time as possible on the show floor. Attend your segment-specific Shoptalk. This will provide a basis for your network and give you the most job-specific ideas. Review the seminar choices to ensure you attend the most applicable seminars for your job. But intentionally attend one seminar outside of your area or comfort zone to get exposure to those concepts and ideas. Look into CAPP certification. If you are looking for a specific product, review the map and visit those booths first. If not, just go on a path to see and talk to as many vendors as possible. You will be surprised by what you learn."

4 "Do not be overwhelmed by the enormity of it all! Before you come, think about several of your most pressing issues or ideas you hope to launch and search out educational sessions and vendors that address these topics. Then, review the vendor map and the session list for new topics, services, and equipment that may not have been on your mind but really draw your attention. If there is an organization doing something you want to emulate, make a point to visit with one of its employees during the week. Lastly, after you get back to your office, meet with your boss, peers, and team to share the best nuggets you learned so you can determine if any ideas can be implemented in your own organization."
5 "Go to each booth and ask as many questions as you want with no fear. There are no such things as silly questions, especially in parking."
6 "Everyone who comes in with someone from the same organization—make it a point to not hang out with your fellow employees. Break away from the norm and go meet people, sit at a different table, attend a different class session, go to a social event, run with the runners in the early morning, and hang late at night with a different crowd. Meet the vendors—they do not bite—they are great people. They support us, we support them. If you do all of this, you will meet some great and interesting folks. If not, let's meet for drinks to discuss your social skills."
7 "Pick the classes you want to attend regardless of the classes your colleagues want to attend. Also, hang out at night. Relationships are built after Conference hours. Don't stand in a corner, but get out and meet as many people as you can."
8 "Before you go, get some questions from your colleagues that you can ask on their behalf. Pack comfortably for the Expo as well as the great meet-and-greets that take place afterwards. Take full advantage of all the classes. I started my Expo day at a game called Sticky Balls and worked my way outward. Even though it may feel like you are on vacation, get up early, network, take a lot of notes, and enjoy yourself and your parking colleagues. There is nothing like this in the world."
9 "Review the list of attendees—Who do you want to meet? Which vendors do you have to visit to learn more? Prioritize which seminars and social functions you would like to attend. If you hear about a function but did not receive an invitation, ask for one so you can learn more and meet more people."
10 "Network, network, network. Although attending the sessions and Expo are well worth it, I feel that networking with your peers and getting firsthand knowledge from professionals in the field is most helpful."
11 "First, take advantage of learning opportunities, such as education sessions. Next, while aimlessly wandering the Expo floor can be interesting, try to go in with a plan for specific things you're looking for and questions you have of vendors. Finally, take advantage of opportunities to chat informally with your peers over coffee or dinner. Building those relationships now will help you time and again during the coming years."
12 "Know what you are trying to achieve information-wise. It is a big show so use the map and target specific people/companies. Get into the CAPP program. You will gain so much knowledge and so many networking contacts."
13 "Make a list of key things you want to see, investigate, and share with your team, and pencil in your No. 1 priority. It's a huge conference, so see your first priority early. Plan time around the events; it's a great way to connect with groups with whom you need time. Finally, drink lots of water."
14 "Be sure to attend the roundtables prior to the opening of the main Conference—the most valuable part of the Conference. Come prepared with your questions."
15 "Bring your competitive side to the conference! Think about the conference as an obstacle course—look forward to the prize potential for making your rounds in speaking with all of the exhibitors. Divide and conquer—if you have several participants from the same organization, divide up the education sessions by track/topic. And, don't forget to have fun. Take the time to relax and enjoy the wonderful outings planned just for the particular venue and each year's Conference attendees!"
16 "Be prepared to walk, walk, and talk, talk!"
17 "There are some really good topics and talks that one should not miss. Familiarize yourself with the schedules, topics covered, and speakers to avail yourself of this opportunity effectively."
18 "First, go through the Conference topic index and consider your organization's weaknesses i.e., technical, administrative. Choose those topics."
19 "Stay on site, attend every event and session, and sponsor at whatever level you can, because it works."
20 "Attend the social events—you will often get a better feel for sales reps and presenters away from the booths and meeting rooms. Stay open-minded to new technologies, but don't lose focus of your operation. Pack as many business cards as you think you will need, and then add more."
21 "Be brash. Engage people you don't know at opportunities like vendor receptions, awards lunches, and even in the hotel lobby. You'll be surprised at how many people you will encounter who have similar interests, information about parking programs, or interesting thoughts about things they have encountered at the Conference."