Accredited Parking Organization (APO) FAQs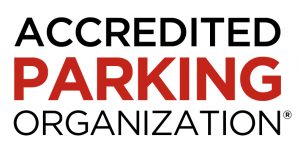 When you become an Accredited Parking Organization (APO), your organization will gain recognition and greater credibility.
---
Frequently Asked Questions (FAQ)
What is accreditation?
Accreditation denotes both a status and process. As a status it denotes conformity to a specific standard as set forth by an accrediting agency, and as a process it shows a commitment to continuous improvement. Accreditation means that the certification body meets the requirements of a national or an international standard as assessed by an accrediting agency.
What is APO?
Accreditation is regarded as one of the key benchmarks for measuring quality. Accredited Parking Organization (APO) is a designation for parking organizations that have achieved a comprehensive standard of excellence. Launched in 2015 by IPMI, the accreditation recognizes best practices in responsible parking management and operations, customer service, professional development, safety, and security. To become an APO, an organization must demonstrate its commitment to ongoing evaluation and improvement of program outcomes.
Why earn APO?
APO establishes a quality benchmark by which a parking management organization conducts its business and maintains its facilities and services. Becoming an APO signifies an organization's commitment to ongoing evaluation and improvement of program outcomes through the implementation of industry best practices. All parking professionals benefit from a common commitment to continuous quality improvement.
What is APO with Distinction?
APO with Distinction designation is reserved for organizations that exceed the standard and meet additional criteria. These organizations:
Meet the 25 required criteria and 80 percent of all other criteria for Accreditation.
Meet 80 percent of the APO with Distinction criteria in Section 1 of the APO Matrix.
If an organization has earned Accreditation, and would like to pursue APO with Distinction, this can be submitted for approval during the three-year accreditation period.
Are there required criteria for APO?
The APO program identifies 25 critical criteria that must be achieved for successful pursuit of APO. These items can be found in the APO Matrix and are listed in the APO Manual for Applicants, and are specifically marked in the matrix in yellow. Prior to submitting an application, IPMI recommends that each potential applicant self-assess their organization to ensure that they can meet these required criteria. To request a copy of the APO Matrix, please
complete the request form
. In addition, each APO must successfully pursue a minimum of one Premier Facility.
What if my organization cannot meet the required criteria?
The APO program's goal is for every applicant to attain the standard at the appropriate level. While some organizations may accomplish the APO standard quickly, others may take longer to gain the required experience and evidence. Organizations that have not yet attained the required level of experience and evidence are encouraged to persevere. With effort and commitment, every parking organization can obtain accredited status. If your organization is willing to pursue accreditation but not able to achieve some of the required criteria (or the 80 percent), we recommend using the matrix as a tool for strategic planning.
How do I receive a copy of the APO Matrix?
How much does accreditation cost?
There are fees for various steps in the process:
Service: Application Fee
IPMI Member Fees: $250
Non-Member Fees: $750
Due Date: Due to IPMI with application.
Service: Accreditation Fee
IPMI Member Fees: $2,500
Non-Member Fees: $4,500
Due Date: Due to IPMI when you are ready to submit your completed documentation.
Service: Additional Premier Facility *Fee applies to the fourth and any additional facilities.
IPMI Member Fees: $500
Non-Member Fees: $500
Due Date: Due to IPMI with the Accreditation Fee.
Service: Site Reviewer*
IPMI Member Fees: Negotiated with APO Site Reviewer.
Non-Member Fees: Negotiated with APO Site Reviewer.
Due Date: According to agreement with contracted site reviewer.
Service: Renewal Fee
IPMI Member Fees: $1,500
Non-Member Fees: $3,000
Due Date: Upon notification.
*IPMI recommends that applicants budget a minimum of $5,000 for reviewer fees, report, travel, and expenses for a two-day, on-site meeting and review. Each organization is unique and may require a customized approach, depending on the level of accreditation sought, the scale and scope of the applicant, and the number of sites to be reviewed
What is a Premier Facility?
Facilities include both parking garages and surface parking lots. As an additional benefit, facilities meeting the accreditation criteria in Section II of the APO Matrix and formally recognized by the APO Board may display the APO Premier Facility logo on their website and at each facility which has undergone the facility review and has met the accreditation criteria. The applicant must meet the APO and/or APO with Distinction criteria to apply for Premier Facility status. Each applicant must have at least one Premier Facility reviewed and approved to meet the standards of the APO program.
The Accreditation Fee includes three Premier Facilities. These facilities are selected by the applicant, and reviewed and documented according to the matrix by the selected Site Reviewer. Applicants are permitted to apply for additional premier facilities.
How do I pay for the APO application fee, accreditation fee and renewal fee?
Your organization's primary contact has access to paying for these fees online through your membership portal. Log in to your record and you will see "Online Store" at the top or the screen. Please click the appropriate add to cart button for the fees you are paying and click check out. Payment may be made by Visa, MasterCard, American Express or check. To pay by check, please contact
apo@parking-mobility.org
for an invoice and mailing instructions.
How long does a site visit last?
Site visits generally range from two to three business days, but may extend depending on the size of your organization and the number of required visits to selected sites for which you are seeking Premier status.
Will the site reviewer communicate his or her decision to the applicant?
No. All completed evidence collections—site-visit attestations, reports, and electronic images —are submitted by electronic means to the APO Board.
How long does the process take after full documentation is submitted?
Applications are accepted on a rolling basis throughout the year and will be processed as received. From the time of application, the applicant organization has one calendar year to complete and submit full documentation. Once received, IPMI will perform a quality review and assemble the material for submission to the APO Board. The Board meets quarterly and submissions are generally reviewed within three months or less, depending on the timing of submission and the completeness and accuracy of materials.
How will applicants be notified of the decision?
IPMI will contact the applicant organization and the site reviewer via email with a formal notification of the receipt of application, as well as the APO Board's decision. IPMI staff may contact the applicant organization and site reviewer during the review process to request clarification or additional information regarding the submission.
How often do programs need to renew their accreditation? Is the renewal process different than the application process?
APO designation is good for three years, after which it will lapse and trigger a renewal process. The APO Board may choose to provide an expedited review process based on the prior submission, depending on improvements to the APO Program during that three-year period. Applicants will be informed of these changes at least six months prior to the expiry date of their accreditation to allow sufficient time for review and resubmission requirements.
After the first three-year cycle and successful renewal for the second three-year period, a full examination of documents, site review, and recommendation will be necessary to re-award the APO designation.
My organization is currently accredited. How do I change our contact information or add or delete staff members?
Does my organization have to be an IPMI member to be accredited?
No, member and non-member pricing is available. Although adding IPMI membership as part of your application process will save you $2,500 and immediately offer the organization access to member benefits and pricing on all other IPMI products and services.
Can IPMI provide me with an invoice or statement on letterhead so we can submit a request for the accreditation application fee?
How do I become an IPMI APO site reviewer?
My question was not answered here.
Questions? Contact us at apo@parking-mobility.org or 571.699.3011. To request a copy of the APO matrix, complete this form.