Young Professionals in Parking
About the Young Professionals in Parking
Young Professionals in Parking (YPIP) provides opportunities for professional development, education, and leadership for the next generation of parking, transportation, and mobility professionals.  YPIP seeks to connect and engage young parking professionals to ensure they receive the tools and resources necessary to guide them throughout their careers within the parking industry.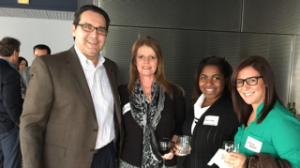 YPIP is designed to welcome young professionals into the parking, transportation, and mobility community. Our mission is to provide a greater platform for professional development, networking, and training for young professionals throughout the industry. We aim to create opportunities for young professionals to develop the skills that will expand their knowledge, promote advancement in the industry, and build relationships that will benefit them throughout their careers.
Contact Rachel Yoka at yoka@parking-mobility.org with questions on YPIP programming and events.