New England Parking Council (NEPC) Spring Conference & Tradeshow
April 2, 2017

-

April 4, 2017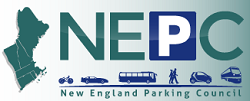 The New England Parking Council (NEPC) Annual Spring Conference and Trade Show brings together parking and transportation professionals from universities, municipalities, hospitals, airports and from the private sector. More than 250 attendees will gather in Boston for two days of education and networking. Forty vendors will exhibit the latest in parking and transportation products and services.
Back again, Frontline Training! This year Conflict Resolution is being offered in a three hour class.
Keynote Address: GODenver The City and County of Denver has been piloting a new urban mobility app, Go Denver, to help residents and visitors make transportation choices more easily. The app provides users with a variety of modal options to reach their destinations and can also provide data-driven insights into how Denver's transportation infrastructure can be improved as Denver's population continues to swell. Cindy Patton, Go Denver project manager for the City and County of Denver, will discuss both process and functionalities related to the app while highlighting the challenges, successes and future opportunities for app development as Denver strives to evolve as a Smart City.

Related Events