IPI Webinar: From Asphalt to Green Infrastructure: Transforming Surface Parking
September 14, 2016 @ 2:00 pm

-

3:00 pm

EDT
On-Demand Archive: Webcast: $35.00 for IPI Members, $50.00 for Non-Members
In the United States, we have cleared 4 million acres of land to create 400 million parking spaces. Conventional parking lot designs create a host of problems for cities and the environment including water pollution, heat island, air quality issues and compared with buildings, lots have received very little design innovation. An evolution in parking lot design is upon us to harness the massive potential of these vast open spaces in our cities and communities. Through the use of solar canopies, a parking space can generate enough electricity to power an electric vehicle for 9,000 miles/year. A single tree can clean the contaminants out of the water that runs off four parking spaces. Permeable pavements and bioswales can retain and manage stormwater surges which protect the local water shed and save energy.
Looking at parking lot design in this new light, one can take advantage of innovations to:
Mitigate the water and heat island issues that are damaging to local ecosystems
Provide multi-modal transportation options to reduce vehicle miles driven
Integrate with the surrounding neighborhood and create communal spaces
Generate additional income streams through renewable energy generation
Objective:
Participants will learn about the innovations available to mitigate environmental problems, generate additional incomes and provide a healthier space for patrons and public.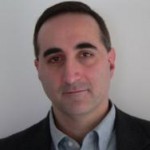 Dan Ciarcia
Dan is a clean-technology and sustainability business consultant. With the Green Parking Council (GPC), Dan was integral to the development of the Green Garage Certification (now Parksmart), managed the GPC Beta program and created the Green Garage Assessor (now Parksmart Advisor) training series. Dan led the development and market launch of the GE WattStation EV charging product lines, Mueller Systems Mi.Net Smart Grid products, and advanced startup companies in the hydro-electric, solar and wind markets. He has formal education in Electrical Engineering with a Masters in Business Administration.
Related Events