ABM Partnering with Auto Dealers to Lead the Way on EV Charging Infrastructure
ABM EV charging solutions supporting record EV sales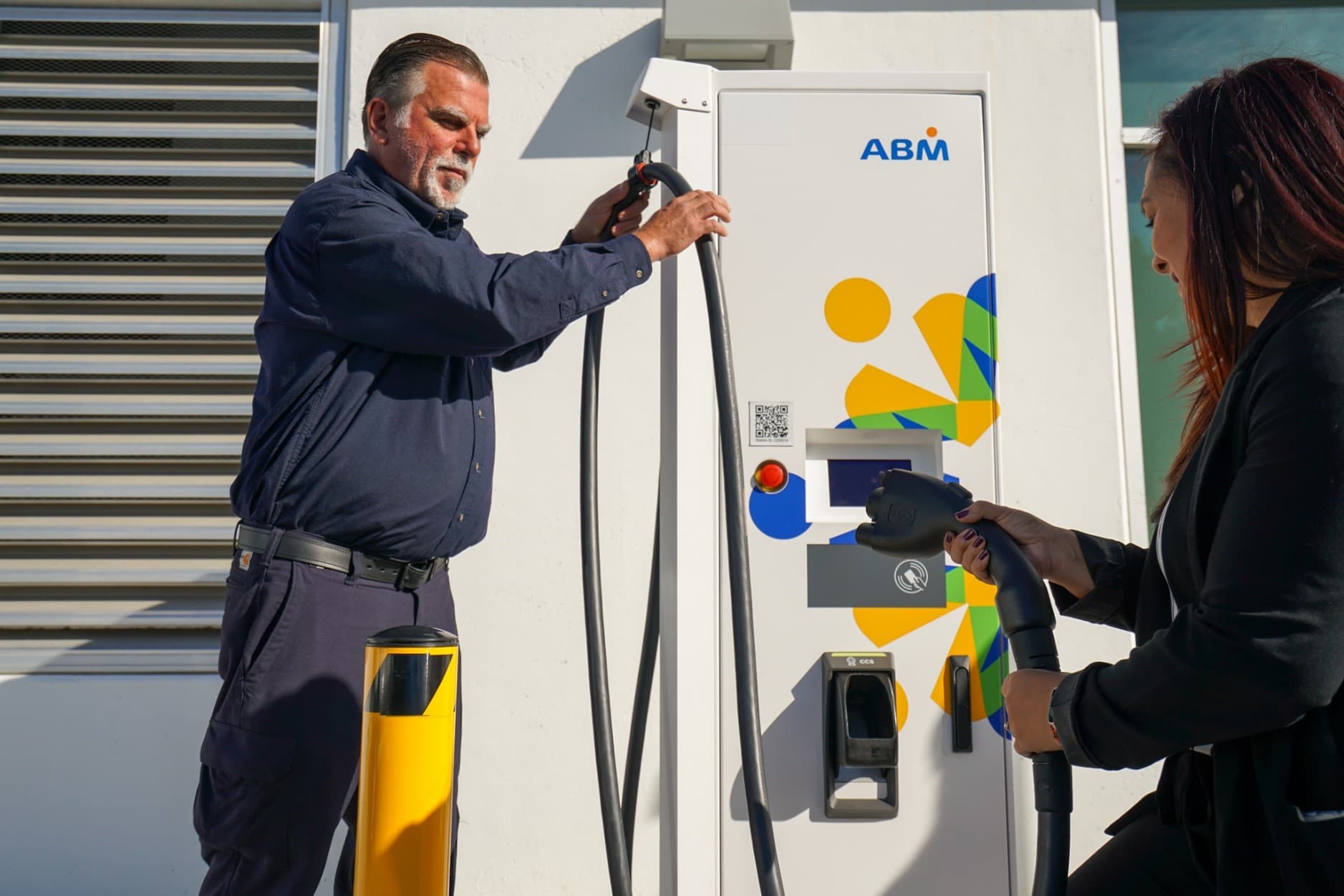 NEW YORK – ABM (NYSE: ABM), a leading provider of facility services, infrastructure solutions, parking management, and electric vehicle ("EV") charger infrastructure, is recognizing auto dealers for their early work in driving EV acceptance and utilization, celebrating their perseverance through early challenges to ensure that America is equipped for an electric future. With EV adoption becoming more mainstream, dealerships led the early adoption needed to ensure infrastructure scales with demand. As catalysts in preparing the US for the electric future, dealers are providing new EV drivers with the infrastructure, services, and knowledge they need to make the EV transition.
While EV charging infrastructure is steadily becoming more accessible, significantly more work needs to be done, with the US currently having only 22% of the chargers needed to meet the demand of 2030's EV drivers according to a recent report by Electrek. In an effort to catch up, auto dealers have been investing heavily in EV charging infrastructure, and are on track to invest over $5.5 billion according to the National Auto Dealers Association. And those investments are paying off, improving local accessibility to chargers and bringing EV drivers into the dealerships regularly.
"As more drivers transition to electric vehicles, we know there is concern about the shortage of EV infrastructure to keep up with demand The investment auto dealerships are making has been vital in getting these vehicles off the assembly line and into the hands of their customers," said Mark Hawkinson, ABM's President of Technical Solutions. "We're proud of our partnerships with many of the nation's largest dealer networks, utilizing our turnkey solutions to quickly provide the solutions they need to make the right decisions today while planning to add scale in the future."
One of the country's leading installers of EV chargers, ABM is partnering with both automakers and individual dealerships to develop and implement their long-term EV strategy. As an example,  ABM began work with the Graham Ford dealership in Mansfield, Ohio to accelerate the region's adoption of EVs by developing the overall electrical plan, installing fast and effective charging stations at its facility, and providing the necessary regular maintenance to preserve the investment. This single partnership reflects Ford's overarching electric vehicle goal, and how EV infrastructure is being introduced at the local level. ABM's broader work with automakers is also allowing for these installations to be made across full dealer networks to ensure EV capabilities are deployed consistently.
ABM also recently introduced their EV Charging Network and related app, powered by its cloud-based ABM EV OS software, further elevating its comprehensive single-source EV infrastructure solution to provide personalized customer experiences and improve EV charger uptime. With over 30,000 installed to date, ABM expands its solutions through this network, which can be paired with its Level 2 and 3 charging stations and hardware to meet the needs of today's drivers and dealerships.
For more information on ABM EV solutions, please visit https://info.abm.com/SimplifyEV.
ABOUT ABM
ABM (NYSE: ABM) is one of the world's largest providers of facility services and solutions. A driving force for a cleaner, healthier and more sustainable world, ABM provides essential services and forward-looking performance solutions that improve the spaces and places that matter most. From curbside to rooftop, ABM's comprehensive services include janitorial, engineering, parking, electrical and lighting, energy and electric vehicle charging infrastructure, HVAC and mechanical, landscape and turf and mission critical solutions. ABM serves a wide range of industries—from commercial office buildings to universities, airports, hospitals, data centers, manufacturing plants and distribution centers, entertainment venues and more. Founded in 1909, ABM serves over 20,000 clients, with annualized revenue approaching $8 billion and more than 100,000 team members in 350+ offices throughout the United States, United Kingdom, Republic of Ireland and other international locations. For more information, visit www.abm.com.
MEDIA CONTACT:
ABM
Michael Valentino
media@abm.com