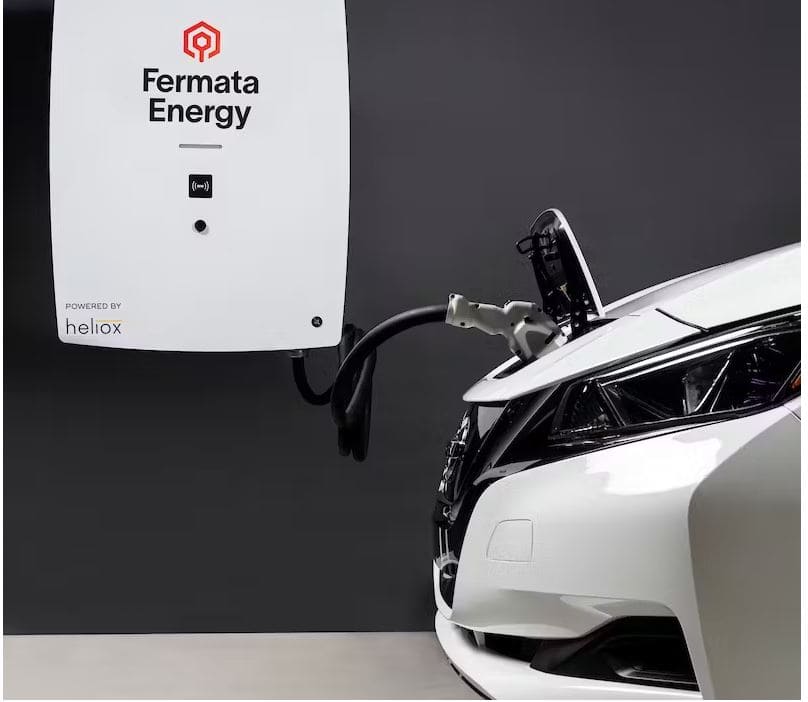 Charlottesville, VA – Fermata Energy, a leading pioneer in vehicle-to-everything (V2X) technology, reveals that its FE-20 bidirectional charging system is fully certified to UL 9741, the Standard for Bidirectional EV Charging System Equipment and UL 1741-SA, the Standard for Inverters, Converters, Controllers and Interconnection System Equipment for Use With Distributed Energy Resources, Supplement SA. This achievement reinforces Fermata Energy's dedication to top-tier safety and performance and builds on the success of its FE-15 chargers, which are operational across the U.S. The certification aligns with original equipment manufacturers' (OEMs) growing emphasis on electric vehicles (EVs) with bidirectional charging, marking a pivotal advancement in the industry.
"Earning UL certification exemplifies our dedication to excellence, safety, and regulatory compliance. We're not only innovating; we're ensuring every solution we offer stands up to the highest standards. Companies seek solutions that aren't just feasible but also financially sound. V2X bidirectional charging isn't just a means to electrify—it's a pathway to earning revenue. The FE-20, combined with our state-of-the-art AI software platform, is pivotal in this convergence of mobility and electrification," said Tony Posawatz, CEO of Fermata Energy.
Fermata Energy, a V2X software platform services provider, became a trailblazer in 2020 as the first company to secure UL 9741 certification in North America by UL, for its FE-15 charging system. The certification of the FE-20 system follows the company's natural progression as the leading innovator in V2G technology and stands at the convergence of mobility and electrification in the North American market.
"With Fermata Energy achieving the first UL 9741 and UL 1741-SA certification of a Vehicle-to-Grid compliant bidirectional EV charger, UL Solutions is helping to build trust in this technology among fleet managers, consumers and other stakeholders," said Milan Dotlich, vice president and general manager of Energy and Industrial Automation at UL Solutions. "We continue to monitor technical developments and regulatory changes to help enable innovation and speed to market as the future of mobility evolves."
Michael Colijn, CEO of Heliox, shares, "At Heliox, we're excited to have partnered with Fermata Energy on the development of the FE-20 bidirectional charger. This collaboration demonstrates our commitment to driving the evolution of fast-charging systems and V2X technology. The FE-20, born from this partnership, represents a significant step forward, with electric vehicles set to play a central role in reshaping the energy landscape. We celebrate being the first companies to achieve certification to the UL 9741 and UL 1741-SA Standards for a fully bidirectional V2G-compliant EV charger. This achievement showcases our teams' dedication and innovation, and we extend our gratitude to Fermata Energy for placing their trust in us. Together, we've transformed a vision into reality."
Fermata Energy and Heliox are poised to continue their momentum with a vision to normalize V2G technology, drive savings for fleet owners, and spearhead a greener energy future.
For more information on Fermata Energy's FE-20 UL certifications, please read UL Solutions' press release here.
Fermata Energy media contact 
Daniel Cherrin, 313 300 0932, dcherrin@northcoaststrategies.com
About Heliox Energy
Heliox provides world class smart energy management solutions that are tailored and scalable within a fast changing e-mobility landscape. We are working towards a sustainable world where a seamless charging experience is the standard for every electric vehicle, and this transforms the way we power our everyday.​
For more information about Heliox Energy, please go to: https://www.heliox-energy.com
Heliox media contact 
Marc Fernandez, +31 088 5016 300, press@heliox-energy.com