Courtney, Murphy, Blumenthal Announce $17M Federal Infrastructure Grant to Transform New London's Downtown Transit Infrastructure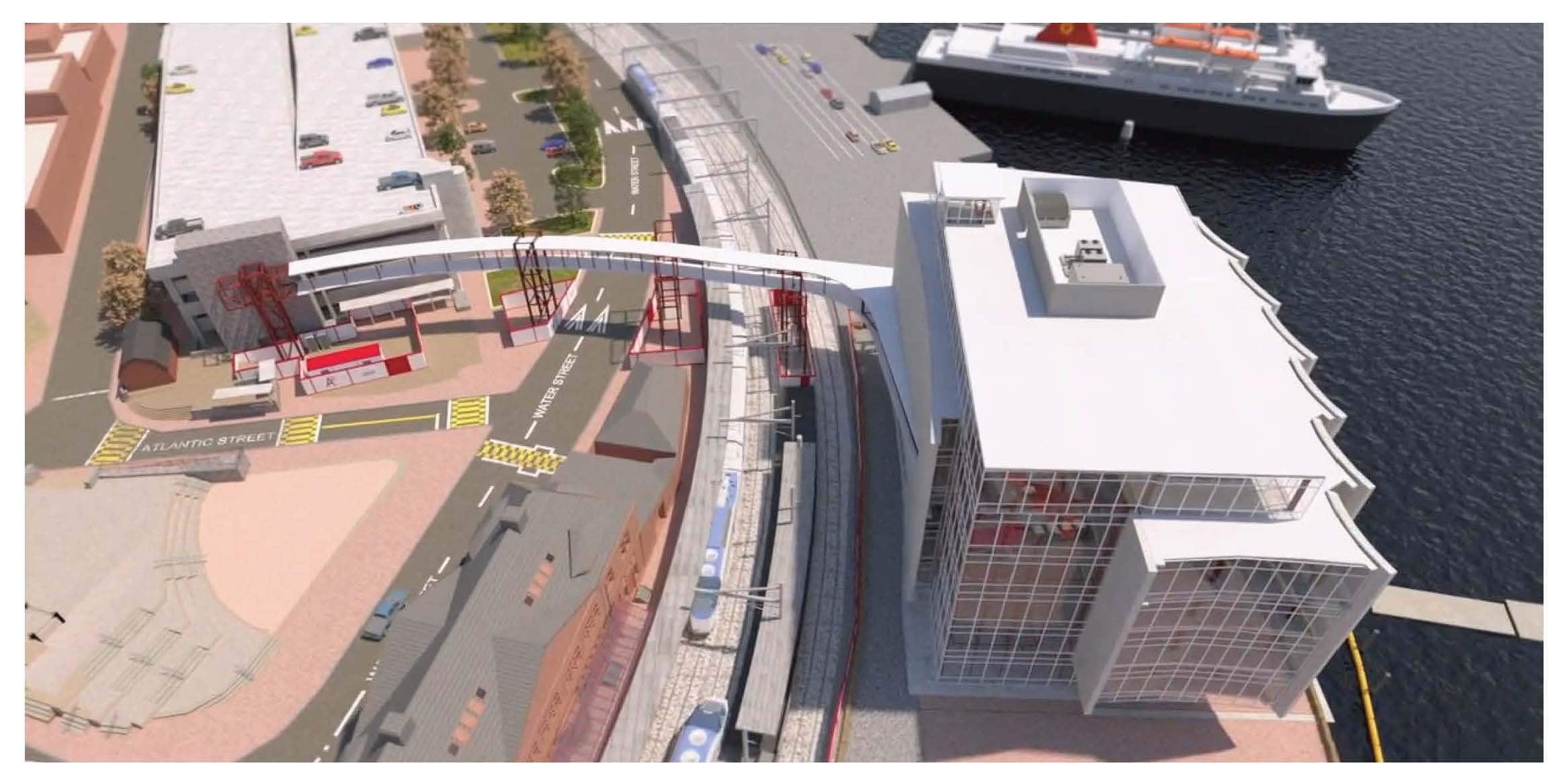 WASHINGTON, D.C. – Today, Rep. Joe Courtney, Senator Chris Murphy, and Senator Richard Blumenthal announced a $17 million federal grant to the City of New London to transform public transportation and improve public safety. The funding—authorized by the federal infrastructure law—comes after the lawmakers strongly urged the Department of Transportation to support this project over the course of the year.
The federal funding will support the construction of the pedestrian bridge to connect residents to the future National Coast Guard Museum Association; a high-speed ferry terminal; a new transit hub; the restoration and renovation of Union Train Station; and an expansion of the Water Street Public Parking Garage by approximately 400 parking spaces. These projects will decrease congestion, improve pedestrian safety, expand ADA accessibility, and meet the growing demand of travelers using the city's transportation services.
"Today's federal grant announcement is a big deal for New London. The award of this funding reflects years of persistent, diligent work by the city, and our congressional delegation, to make the case that the thriving downtown hub of New London deserves the support of critical federal infrastructure funding. Importantly, these projects will continue the dramatic transformation of New London's downtown and boost economic opportunity for the entire region. Congratulations to Mayor Passero, Director Carey Redd, and their hard-working team, who my office and I have worked closely with over the last several years to push this project forward. I am especially grateful to my colleagues Senator Murphy and Blumenthal for championing this project alongside me over the years," said Rep. Joe Courtney.
"The City of New London has been trying to get this project off the ground for years, and I'm so proud that we secured this $17 million USDOT grant to finally make it happen. Every year, more and more people in Connecticut and beyond are coming to visit New London, and we know that number is going to skyrocket when the National Coast Guard Museum opens in just a few short years. This project will bring a major boost to the local economy and help make sure the city can manage the influx of visitors and traffic. The future of New London is bright, and I am laser-focused on fighting for federal funding to support the growth of southeastern Connecticut," said Senator Chris Murphy.
"This $17 million will be absolutely transformative, a giant gamechanger for New London's downtown, creating a strong interconnected transportation infrastructure. I commend Mayor Passero and city leaders for their vision and determination – leading to this significant federal investment which will spur economic growth and vitality for New London. I am thrilled to see this significant investment in one our state's cities and will keep fighting for Connecticut to receive these critical infrastructure funds," said Senator Richard Blumenthal.
"By transforming the Water Street Garage into a transit center and linking it to the adjacent National Coast Guard Museum and multi-modal transportation hub we will significantly enhance transportation safety and efficiency for residents of the City and wider region as well as visitors to the museum and attractions across southeastern Connecticut," said Mayor Michael Passero.
"I am grateful for the efforts of Senators Murphy and Blumenthal and Congressman Courtney in bringing this long-term vision closer to reality," said Carey Redd II, Director of the New London Parking Authority and Transit. "While safety is the focus of this project, it will also greatly enhance economic opportunities in the City and beyond."
The City of New London estimates this project will result in $6 million in immediate jobs; $18 million in global supply (Buy American); and an increase of $10 million per year in the region's economic impact.
The funding comes from a Department of Transportation's Rebuilding American Infrastructure with Sustainability and Equity (RAISE) grant program, funded by the federal infrastructure law Congress passed last year. The program helps communities around the country carry out critical freight and passenger transportation infrastructure projects.
Congressman Joe Courtney was elected in 2006 to represent the Second Congressional District of Connecticut in the House of Representatives. He serves as the second highest Democrat on the House Armed Services Committee, and a senior member of the House Education and the Workforce Committee.