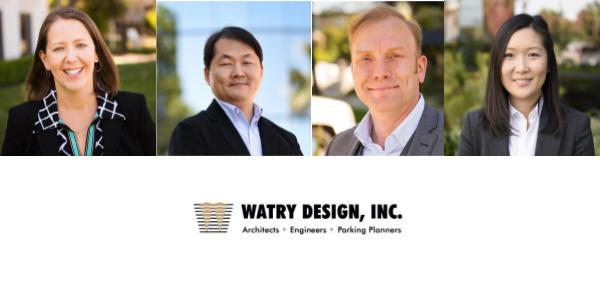 Parking Design Leader Watry Design, Inc. Promotes Key Staff to Associate Principals and Associate Director
Watry Design, Inc. is pleased to announce the promotions of three individuals to Associate Principals and one to Associate Director. The firm aspires to recognize those who go above and beyond, and these long-time employees are exemplary models of our company's core values.
Taylor Kim, AIA, LEED® AP, Associate Principal, Parksmart Advisor, started her career with Watry Design in 2007. Named one of the National Parking Association's 40 Under 40, Taylor is dedicated to developing innovative solutions for her clients. She has led the design of parking solutions for landmark projects such as The Rise in Cupertino and the California Avenue Parking Structure in Palo Alto, and is a member of the Parking Consultants' Council.
Anita Gupta, SE, Associate Principal, has been with Watry Design for 19 years and has extensive experience in parking structure design and renovation. Anita's passion for parking can be seen in projects such as the Mineta San Jose International Airport ConRAC & Economy Parking Structures and the award-winning San Jose State University South Campus Multi-Level Parking Structure. In addition to delivering on the expectations of her clients, Anita heads the firm's Justice, Equality, Diversity and Inclusion committee.
Gordon Knowles, Associate Principal, brought over 20 years of experience in architecture when he joined Watry Design in 2016. Working tirelessly to design parking that meets clients' specific needs, Gordon has led the design of parking solutions for high profile clients such as Workday and VTA. Currently, he is working to improve the patient experience at Salinas Valley Memorial Hospital.
Hyong-gi Jeon, AIA, LEED® AP, Associate Director, has been with Watry Design since 2004 and is committed to achieving the goals of his clients. In addition to full parking structure design for high profile campuses such as Pathline Park, Hyong-gi has extensive experience solving parking challenges with innovative solutions such as mechanical and automated parking systems.