Fort Worth's Trinity Metro Awards Second Digital Signage Contract to Connectpoint for Eco-Friendly, Energy Efficient, Solar-Powered Digital Bus Stops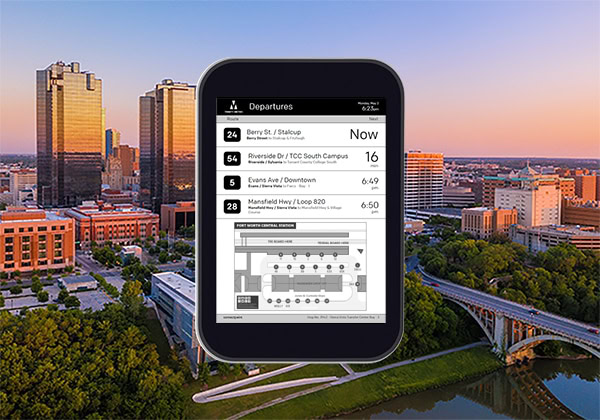 Santa Barbara, California – Connectpoint®, a provider of ePaper technology-based real-time passenger information to the U.S. transportation industry, today announced that Fort Worth's Trinity Metro has awarded the company a new digital signage contract for Connectpoint® Digital Bus Stop displays to be deployed throughout the transit system.  The solar-powered displays are in line with the agency's environmentally friendly CNG bus fleet and its battery-electric bus route, The Dash.  The announcement was made today by Rick Wood, CEO and President, Connectpoint.
Trinity Metro awarded Connectpoint its first contract for solar-powered digital signs in 2017, with the first Connectpoint® Digital Bus Stop displays deployed in 2018 at the agency's busiest transfer centers, including Hulen Mall Transfer Center, La Gran Plaza Transfer Center, Sierra Vista Transfer Center and Dr. Dennis Dunkins Transfer Center. Connectpoint will work closely with Trinity Metro to map out new locations such as Trinity Metro's Fort Worth Central Station, the downtown station for TEXRail and Trinity Railway Express trains, as well as transfer points for multiple Trinity Metro buses.
Trinity Metro is a regional transportation system that provides public transportation to meet the mobility needs in Tarrant County. The agency offers connections throughout the North Central Texas region on buses, ACCESS paratransit, ZIPZONEs, Fort Worth Bike Sharing, vanpools and the Trinity Railway Express (TRE), a 34-mile commuter rail line jointly owned and operated with Dallas Area Rapid Transit (DART). Trinity Metro is the sole owner and operator of TEXRail, a 27-mile commuter rail line that runs from downtown Fort Worth to Dallas Fort Worth International Airport's Terminal B.
"Connectpoint is excited about continuing our relationship with Trinity Metro and assisting them with their move toward sustainability and equity," commented Wood. "Over the last several years, Trinity has made significant additions to their service, including TEXRail. Connectpoint is proud to be part of Trinity Metro's ongoing effort to increase resources and services for their riders."
Connectpoint drives the digitalization of cities through an integrated system of information about the status of transportation systems. The Connectpoint Digital Bus Stop® is an advanced solar-powered (or A/C) wireless ePaper digital sign that provides real-time public transportation information 24/7. The ePaper displays are available in multiple sizes and can be quickly installed on poles, at shelters, or in a stand-alone fabricated pylon. Connectpoint's products are used at rail stations, transit hubs and bus stops.
Timely and accurate real-time information is delivered seamlessly to passengers across an agency's digital signage with Connectpoint's easy-to-use and powerful Connectpoint Asset Management system (CPAM®), designed specifically for the transportation industry. This cloud-based software is intuitive and customizable, allowing agencies to deliver alerts via the agency's real-time feed, as well as schedule custom messages for their riders. This tool gives agencies the freedom to remotely control as many signs as they please through one integrated backend system.
Most recently, Connectpoint was selected as the winner of the "Overall Smart City Solution Provider of the Year" award in the 6th annual IoT Breakthrough Awards program conducted by IoT Breakthrough, a leading market intelligence organization that recognizes the top companies, technologies and products that drive innovation and exemplify the best in the global Internet-of-Things (IoT) market today.
Connectpoint serves 26 transit agencies in the U.S. and has thousands of displays in the field, giving millions of riders information each year.
About Connectpoint
Connectpoint's ePaper digital signage, available in 4 sizes–13", 22", 32", and 42"–is the most deployed ePaper digital signage solution within the U.S. transportation industry. Connectpoint also offers LED and LCD digital signage solutions.
Connectpoint designs, builds, and manages all product development, with content delivered and managed by CPAM™, our device and technology-agnostic content management system. Clients have input and control over all signage from desktop or mobile devices. Our diverse and talented team have specific software expertise to deploy ePaper and other digital signage solutions and can solve even the most complex issues and deliver on-time, challenging projects. In conjunction with our sister company, CHK America, we have helped power over 2 billion trips annually, allowing transit riders to make informed decisions. Connectpoint's robust client list includes WMATA, Washington D.C.; PAAC, Pittsburgh, PA; King County Metro, Seattle; Tri-Met, Portland; VIA, San Antonio, TX; Orange County Transit, CA; DASH, City of Alexandra, Virginia; GCRTA, Greater Cleveland, OH; SMART, SE Michigan; RTCSN, Las Vegas, NV; DART, Dallas, TX; FWTA, Ft. Worth, TX, Sonoma County Transit, CA; SMART Wilsonville, OR.
For more information:
Tasha Wood
Sales & Marketing
twood@connectpointdigital.com
1.805.637.1994