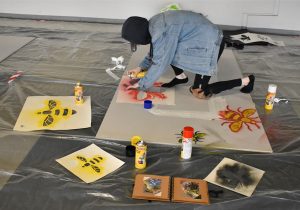 Leading online parking reservation leader, ParkCloud, and European parking operator, Q-Park, are celebrating their success as two of the UK's leading pioneers of the PARK(ing) Day initiative, following the culmination of their successful CSR project.
Having utilised their respective influences within the industry to create an initiative that allowed art students from Greater Manchester to get creative with parking, both companies came together on Friday (PARK(ing) Day itself) to host the finale of their highly anticipated art competition.
Hosted in Q-Park's First Street car park, 10 shortlisted students from colleges and schools around the region battled it out over six hours to recreate their original artworks in the unique setting of a parking space.
Winner, Saskia Gentile, an art student from Cheadle & Marple College, impressed the expert judging panel with her colour tribute to the Manchester worker bee, which symbolised the creativity and individuality of Mancunians.
Judges, David French, Director of AWOL Studios, professional graffiti artist kELzO, Parking Review Editor, Mark Moran, Q-Park's Tom Petch and ParkCloud's Commercial Director, Valentina Moise all noted Saskia's intricate colour work in their scoring – impressed with how she had applied blended colour to portray personal charity links and signify key elements of the city's culture within the confines of a parking space.
The grand prize of a £500 contribution towards the winning student's further education, will enable Saskia to progress with her passion for art and graphic design post-Sixth Form College.
Mark Pegler, Managing Director of ParkCloud, said: "ParkCloud has always been extremely proud to champion the PARK(ing) Day initiative, with this year's project really going that extra mile, with the help of Q-Park, to highlight the premise of creatively revamping urban parking areas.
"Not only have we able to offer valued support to organisations and schools within our community, we have also been able to facilitate a project we can evolve year-on-year – enabling us to grow the reach and impact of the overall initiative."
The winning artwork will now be displayed in Q-Park's car park for all drivers and visitors to see.
Originating from San Francisco in 2006, the drive behind PARK(ing) Day – which is celebrated annually on the third Friday of September – derives from the need for more open, creative space within urban areas; with 'parklets' now popping up in cities all over the world each year in a salute to creativity.
To find out more about ParkCloud, please visit www.parkcloud.com.