Don't Communicate. Connect.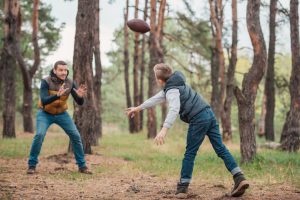 By Matt Penney
When my son, Carter, was 10, he asked me to throw the football with him. It was a picturesque Dad moment. We walked out into the sunlight with a ball in hand and that's when things started to go a little sideways. Our planned game of catch transitioned into a minicamp for football drills.  My enthusiasm for playing quarterback was all too obvious.  You would have thought I was trying out for an NFL team.
The problem was my zeal was a little misplaced. I've never played quarterback–for any team. My passes sailed way over Carter's head or skipped on the ground several feet in front of him. The one pass out of five that was on target was blisteringly fast and would have been a challenge for an adult to catch.
Our afternoon of catch ended after about 15 minutes with both of us walking away frustrated.
Baylor University is kicking off another school year and there is so much our parking department wants to communicate to campus, especially the new students. In the past, Baylor wrote lengthy mass emails and detailed web pages. What we found was that these attempts to communicate sailed right over the heads of intended audience. Our students were frustrated and our department was frustrated.
In a training hosted by the University of Houston, it stabbed like a knife when they asked if our communication was intended to be read by students or read by administrators. Baylor Parking Services had developed a longwinded paragraph style administrators might like, but students simply didn't read.
Both with my son in the backyard and with the Baylor students on campus, the opportunity to connect was missed. All my son wanted and needed was for me to toss a simple catchable pass in his direction. All most  Baylor students need is simple, very concise parking basics.
Take a second to refocus on your audience. Are you communicating in a style that fits their need? Remember the goal is not to communicate, but to connect.
Matt Penney is director of parking and transportation services at Baylor University.