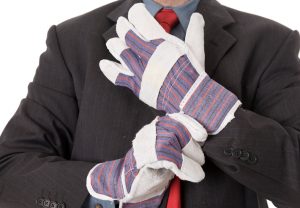 By Victor A. Hill, CAPP, MPA
Don't be afraid to get your hands dirty. You'll inevitably learn something about your operation or get a new idea to make something better.
I have three full-time employees, not including me. If a parking lot sign needs to be fixed, I can submit a work order to our facilities department or I can take 10 minutes to grab a new sign, an impact driver, a couple of screws, and fix it myself.
It was in one of those moments, as I was replacing a stop sign earlier this summer, that I realized something was missing. I looked around at our polished, black sign posts and compared them to our similarly shiny street light poles around campus. The sign posts looked boring and unfinished compared to the light poles. The sign posts needed a little something extra.
Fast forward to August, and I'm still replacing stop signs. But I'm adding black frames behind the stop signs, bases to the bottom of the posts, and custom street signs with our university colors and seal. It's surprising to see how much of a difference – albeit a subtle one – these additions make.
Most people won't notice these extra touches because they'll be part of the overall impression visitors have of the campus. They might even contribute to a prospective student's decision to attend our university.
If it means I get a little dirt on my hands, it's worth it.
Victor A. Hill, CAPP, MPA, is director of parking and transportation services at the University of Wisconsin-LaCrosse.