Predicting the Future? Ask a Five-Year-Old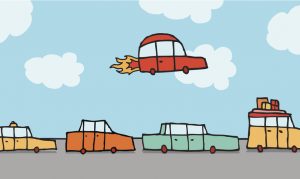 By Bonnie Watts, CEM
I was ahead of my time.
Around first or second grade, I remember the initial assignment given to kick off the new school year was something along the lines of "visually depict how you think things will change or be different 20 years from now." The goal was to get our summer brains re-engaged and to inspire our imaginations. I should have patented my ideas back then—I would be very wealthy today.
My drawing basically depicted a smart home and flying vehicles.
While I was about 20+ years ahead of my projections, here we are. Autonomous vehicles, smart homes, smart infrastructure, automation of everything and yes, even flying Uber cars are closer to a reality according to this Fox 4 news article. Forbes also recently released this article on Beyond Self-Driving Cars: 12 Upcoming Innovations in Transportation and Travel, and I can't help but wonder if some of this new technology isn't the vision of one of my classmates.
The lesson is, if you want to know where we will be 20 years from now, ask a five-year-old.
Bonnie Watts, CEM is IPI's vice president of sales.