Christopher Bush of Duke University's Parking and Transportation Services is Named IPI's 2018 Staff Member of the Year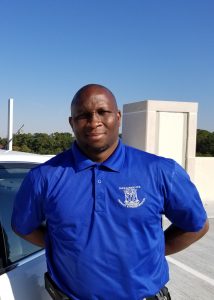 His attention to detail, time-management, and work ethic help ensure the success of campus events
(Orlando, Fla.) – June 1, 2018 — The International Parking Institute (IPI) announced that Christopher Bush of Duke University's Parking and Transportation Services is its 2018 Staff Member of the Year.
The award, part of IPI's annual Professional Recognition Program, was announced at the association's 2018 Conference & Expo in Orlando, Fla., June 3-6. The award honors frontline parking staff.
Since joining the staff at Duke University in 2016, Christopher Bush has been responsible for setting up nearly 1,400 special events held on campus every year. His willingness to pitch in whenever and wherever he's needed—from last-minute enforcement requests to escorting high-profile guests on campus—and attention to detail help ensure that events are successful and in keeping with university standards. He applies this attentiveness to his parking duties, effectively monitoring and enforcing rules and regulations. Bush's superior time-management skills have earned him the position of lead trainer for the automatic license plate reader system. He responds to every situation with grace and poise and is a well-respected and welcome sight on campus.
# # #
Media contact:
Helen Sullivan
703.606.7622