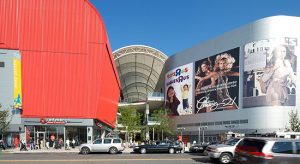 Propark America announced today that the company has assumed management responsibility for the parking operations at Rego Center Mall in Queens, New York. "We're honored to provide management services to Rego Center Mall," said Kristen Sokich, Propark's senior vice president. "This is a great opportunity for us to showcase our expertise in the retail parking environment, where our creative approaches to revenue control and premium service delivery intersect for the benefit of the mall's employees and guests."
Located in the heart of Queens, the Rego Center Mall is situated in a popular area that offers a complete lifestyle experience and unique blend of retail stores. This creates a challenging parking environment requiring specialized management.
"This operation caters to both monthly customers and, obviously, a great deal of transient business in the form of shoppers," continued Sokich. "Our entire model for the retail parking vertical centers around making the parking experience easy and enjoyable for customers and, in the case of Rego Center Mall, the surrounding area's residents. We realize that we're part of the fabric of the local community, and we embrace that as a parking management company that is focused primarily on service delivery."
Built on the grounds of the former "Fairyland" amusement park, Rego Center Mall is owned by Vornado Realty Trust and is home to a variety of shopping outlets. With over 2,600 parking spaces and 22 pay stations throughout the garage, with another 250-plus parking spaces in the front of the mall, the Rego Center Mall's parking operations supports the bustling retail environment driven by premier retailers, including Kohl's, Costco, T.J. Maxx, Marshalls, Old Navy and Burlington Coat Factory. A third open lot in front of the mall caters to short-term parking for up to two hours at a low rate.
About Propark America Propark America is one of the country's largest privately-owned parking companies, providing full service parking solutions and mobility services for all business types, in over 75 cities across the United States. For more information, please visit propark.com or call our New York Office at 914.478.6300.
Media Contact:
Dennis Safford
(860) 856-4104