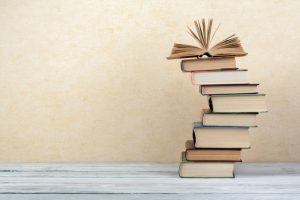 By Kim Fernandez
The Next Big Idea Club  is a curated subscription service for books: subscribers receive three books every two months, picked by a great-minds dream team that includes writer and speaker Malcolm Gladwell and introvert-writer Susan Cain, among others. It's not cheap, but promises to "hand-pick the ideas that will change your life." Which, depending on your perspective, is pretty tempting (it also donates two books per subscription to students in need, so there's an altruistic side).
I got to thinking after perusing the club's website about the books that have changed my life, or at least the way I do the things I do. All the Laura Ingalls Wilder books, E.B. White's children's books (Stuart Little and Charlotte's Web were read and re-read until the covers and spines disintegrated), Harriet the Spy, From the Mixed-Up Files of Mrs. Basil E. Frankweiler, and the Nancy Drew series make the list for keeping me reading through childhood. After that come a host of books about writing (Stephen King's On Writing tops the list), leadership (It Worked for Me, by Colin Powell), faith (The Jesuit Guide to (Almost) Everything, by James Martin, SJ), and making much of each moment (When in Rome, by Robert J. Hutchinson). Of course, there's The Associated Press Stylebook, which brings me joy and probably drives my co-workers nuts, and many more.
It all made me curious about parking professionals and what books you'd include in your Next Big Idea box, if you were to fill one. So that's the question of the day—what are your life-changing reads and why? Let me know in the comments. Summer's coming and I can't wait to dig in to some of your favorites.
Kim Fernandez is IPI's director of publications and editor of The Parking Professional.