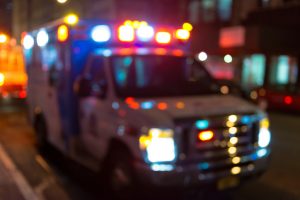 By Michael Cramer
There are few things as surreal as a life-and-death moment. Many years ago, I was working on a suburban campus. There were a couple million square feet of office and two large garages with capacity for 4,000 vehicles. It was a beautiful setting and a peaceful place.  Not much excitement save for the Monday morning updates from security about weekend escapades in the garages.
She was a middle-aged woman whose name I never knew. To all outward appearances, she had a pleasant life with children and a husband who loved her. She drove to the roof of the garage and after sitting on the curtain wall for a moment, threw herself down eight stories. She landed on the grass outside the garage in a sitting position and at first glance, she looked as though she was resting.
A parking employee found her first. He nervously stuttered his call for assistance over the radio but was too shaken to be understood. My co-worker and I responded and he began CPR and working frantically to revive her. After a couple of frantic but fruitless minutes, I gently pulled him back. She was gone.
The ambulance came and so did the police. We explained as best we could as they took her away. Suicide never crossed my mind. The detective, however, knew instantly. Later, I learned that the woman's troubles began many years earlier when her father took his own life. She was the same age as her father was when he killed himself. Her mental state had worsened as she got closer to that age.
I've never forgotten that woman. Thirty years later, her children must be approaching the age when she took her life. I think about them and hope they broke their family curse. If I had been in the garage at the critical time, would I have understood what I was seeing? What would I have done? I don't know. The memory remains surreal.
Editor's note: Download a copy of IPI's "Suicide in Parking Facilities: Prevention, Response, and Recovery" here.
Michael Cramer is president of Parking Dynamics.