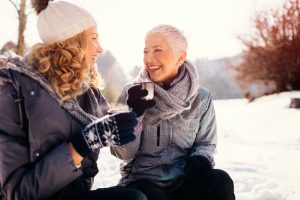 By Rachel Yoka, CAPP, LEED AP BD+C
It's the season for unexpected snowfalls, nor'easters, and snow days (for kids of all ages). It's been a little looney at my house (even more so than average) and I am not ashamed to admit it. Late spring has been very mercurial as of later for us on the East coast. Folks are cooped up, kids are off school, and commuters are less than pleased with shoveling their cars out, delayed transportation, and longer times in transit. Even the dog doesn't want to go outside, and I kinda don't blame her. In my house we are all dreaming of warmer days and sunshine.
But I think part of what has made the winter doldrums just that is the difficulty connecting with people.  Sure, we text and chat but we don't get out so much to see our neighbors, go to ball games, or just see our friends face-to-face. For many people, myself included, that person-to-person connectivity lights us up, it charges our batteries, and makes our days special.
People are often the brightest spot in our day. And I know for sure we will all get that fix in Orlando—connecting with our parking family and friends there—that's the brightest spot of the whole Conference for some of us! So remember your parking family and friends in the run-up to the show. We can all use a little more personal connectivity (especially those who are still snowed in!)
Rachel Yoka, CAPP, LEED AP BD+C, is IPI's vice president of program development.