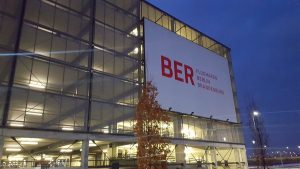 European airport parking reservation leader, ParkCloud, has agreed a contract to offer the official multi-storey car parks, operated by parking facility operator APCOA PARKING Deutschland GmbH, to its passengers flying from Berlin Schönefeld. The cooperation between ParkCloud and APCOA PARKING is part of APCOA's aspiration to provide clients with the best service possible as the concessionaire for airport operator Flughafen Berlin Brandenburg GmbH.
The new deal enables ParkCloud's near 3 million users to book spaces at Berlin Schönefeld's most popular parking areas located a couple of minutes' walk from terminals A and B, comprising 820 spaces across five levels, and available 24 hours a day.
Haakon R. Holm, Vice President Commercial Marketing at Flughafen Berlin Brandenburg GmbH, said: "We want to enable as many customers as possible to use our wide range of car parking facilities. By working together with APCOA PARKING and ParkCloud, our passengers can now also secure their car park whilst booking a flight or directly via www.parkcloud.com, with prices starting as low as 19 € per week."   
In addition, and especially given the airport's status as a hub for low cost airlines, an even more compelling offer for travellers seeking the best parking price has been secured by the ParkCloud team. The new Berlin Brandenburg Airport, located a short drive from the existing Schönefeld terminal but not scheduled to open until late 2020, is the site of one of APCOA´S brand-new multi-storey car parks: P3, which offers ultra-low-cost parking in a top-quality facility.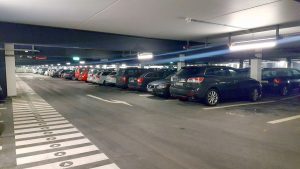 With P3 APCOA PARKING combines 24-hour opening with a free seven-minute shuttle service every 30 minutes to ensure that those travelling on leisure get the best of both worlds when deciding where to leave their vehicle whilst away.
With more than 33 million passengers recorded in 2017, Berlin has reaffirmed its status as Germany's third largest airport market, surpassed only by Munich and Frankfurt. With rising demand for travel to and from the capital anticipated for the future, the new Berlin Brandenburg Airport will bolster international travel links for passengers worldwide.
Mark Pegler, Managing Director at ParkCloud, said: "With travellers from Berlin flying to a total of 195 destinations in 2017, the need for reliable support services that allow passengers to choose and plan their airport experience is paramount – which is where ParkCloud can assist.
"Working together with renowned parking operator APCOA and airport operator Flughafen Berlin Brandenburg GmbH, we're already fully supporting the airport as it continues to grow."
Flughafen Berlin is the fourth German airport to join ParkCloud's global network, alongside Nuremberg, Weeze and Memmingen.
To find out more about ParkCloud, please visit www.parkcloud.com.
About ParkCloud 
ParkCloud, simply put, lets drivers book a parking space in advance, in the same way as it's possible to do with hotel rooms, restaurant tables…and even a coffee these days.
When travelling, parking is usually the last thing on anybody's mind, but research shows that as much as 20 minutes is wasted when searching for a parking space. ParkCloud aims to solve that problem by letting customers make a parking booking, whether they are getting on a plane, taking a cruise, catching a train, or visiting a city or event.
ParkCloud was founded in 2008 as an online parking reservation service and within the nine years we've been operating our success and growth has been rapid; we've gone from our three founders to employ over 20 members of staff; from one country to over 40; and from two languages to over 20 – and we don't plan on slowing down.
Today we are an award-winning, global provider, working with car park operators across 40 countries to include them on our comparison search engine, which aims to give consumers the most user friendly, efficient service possible when they need it most.
This bookable parking network is also made available to travel industry partners to help complete the itineraries of passengers worldwide.
Winner of Queen's Award for International Trade
PR Contact Details 
ParkCloud 
Gemma Killackey 
PR & Communications Officer / gemma.killackey@parkcloud.com 
07904287029