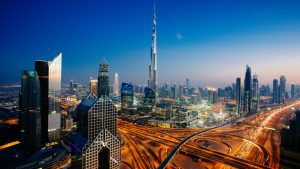 The squarish, blue and white boxes humming on Dubai roads may look a little weird, but they also might be a glimpse at the future of transportation. The city is testing a fleet of electric, autonomous pods at the World Government Summit—designed by NEXT Future Transportation, the pods can hold 10 passengers each and operate for three hours on battery power. They move along in dedicated lanes at 12 miles per hour and can be coupled together for more capacity.
The hope is that, if the test is successful, real passengers may soon call the pods on smartphone apps to get around town, perhaps even with dining or restroom pods snapped on.
Read about the test and check out photos and a video here.