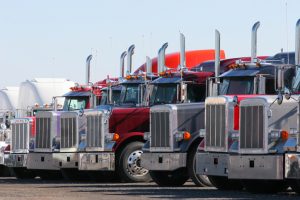 Travel along any major highway and you're likely to see 18-wheelers parked along shoulders and exit ramps while their drivers get some rest. Technology developed in the parking industry is about to try and change that.
Minnesota has started installing technology to let truckers know in real-time where parking spaces are available at rest stops. They say drivers often stop on ramps and shoulders, where it's not always safe, because finding empty spaces at truck stop can be a bit of a shot in the dark.
Truck stop spaces are receiving under-pavement sensors—two per oversized space—that will communicate to the state department of transportation and be relayed to message signs on the highway that will tell truckers where spaces are available and how many are open. It's an effort, officials say, to get drivers to safer spaces and encourage them to get required amounts of rest. And it's mostly being paid for by a federal grant, which will also allow similar programs in seven other states.