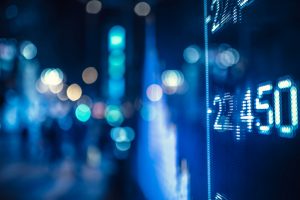 By Mark Vergenes
Parking professionals, like everyone else, have concerns about the stock market. Last year was good. While it took the Dow 14 years to climb from 10,000 to 15,000, it took it just three-and-a-half years to reach 20,000 in 2017.
Perhaps those highs made the Dow's 1,500-point drop over the past two days (on Friday, Feb. 3 and Monday, Feb. 6) more surprising. Whenever the market drops, we must ask, is this a correction or is this the start of something more?
It seems that this pullback in stocks is being driven primarily by a combination of a correction in an overbought market and the resulting sentiment, which is a bit panicked. However, pointing to the reasons doesn't make the 8 percent drop in the S&P 500 (from peak to trough) less uncomfortable. But these types of drops do point to the need to view the stock market as a medium- and long-term buying opportunity.
Should you buy when stocks drop? Maybe, not quite yet. The signs point to a more drops before we hit the bottom. The good news is that a market that drops on positioning with strong fundamentals in place presents an opportunity for investors with the vision to see past the short-term noise.
What does it mean for industry members' investments? Financial professionals have known we've been due for a correction for a long time, and now it's finally here. As with many corrections, especially in these computer algorithm-driven markets, stocks have overshot rational levels and are declining sharply in this correction.
It's important to remember that nothing has significantly changed in the economic or political arenas the past 10 trading days that might account for a long-term shift in stock values. The fundamentals of a sound market remain. We are seeing good economic data, a rise in earnings, still-low interest rates, and a not-aggressive Fed. With this in mind, these drops looks like corrections, not a free-fall. That points to a medium- and longer-term buying opportunity.
Mark Vergenes is president and investment executive with MIRUS Financial Partners and chair of the Lancaster, Pa., Parking Authority. 
Opinions expressed are not intended as investment advice and may not be relied on for the purpose of determining your social security benefits, eligibility, or avoiding any tax penalties. All information is believed to be from reliable sources; however we make no representations as to its completeness or accuracy. All economic and performance information is historical and not indicative of future results.